Creamy Red Kuri Squash Soup (Hokkaido Pumpkin)
This creamy Red Kuri Squash Soup (also known as Hokkaido Pumpkin soup) is seriously one of the best fall soups I know of. It's creamy, full of flavor and just heart-warming (thanks to the ginger).
Pumpkin soup is not something I have ever eaten before coming to Germany. For some reason, it just never appealed to me. But having tried it once one day, I fell in love with it. This particular recipe comes from a recipe card I got while studying at the university, here in Germany. I have been making it for years since then.
What is Red Kuri Squash?
Red Kuri Squash, also known as Hokkaido Pumpkin is a small pumpkin that is not very well known in the US, but is becoming more and more popular. It originated in Japan and has a (fat) tear-drop shape and a bright orange color. The skin of the pumpkin is edible. If you want to learn more about this awesome vegetable, this Wikipedia page offers quite a lot of information.
What does Red Kuri Squash taste like?
The squash is full-flavored, nutty and sweet in flavor, but tastes a bit different than the more known types of pumpkin or squash. When cooked, it has a smooth and tender texture and is more dense than a lot of the other pumpkins.
Do you have to peel Red Kuri Squash?
No, you do not have to peel the squash to use it. The skin is edible. I kind of got used to doing it though from the beginning. Leave it on to save yourself sometime. If you do decide to peel it, make sure you have a good vegetable peeler as the skin is thick and rough and not so easy to peel.
Creamy Red Kuri Squash Soup Recipe Step by Step
Prepare Red Kuri Squash
Cut the squash in half and scoop out and discard the seeds. Cut each half of the squash into strips about 1-1.5 inch thick. Peel the strips using a vegetable peeler and then cut them into smaller pieces. Alternatively, you can leave the skin on as it is edible. However, I am used to peeling it.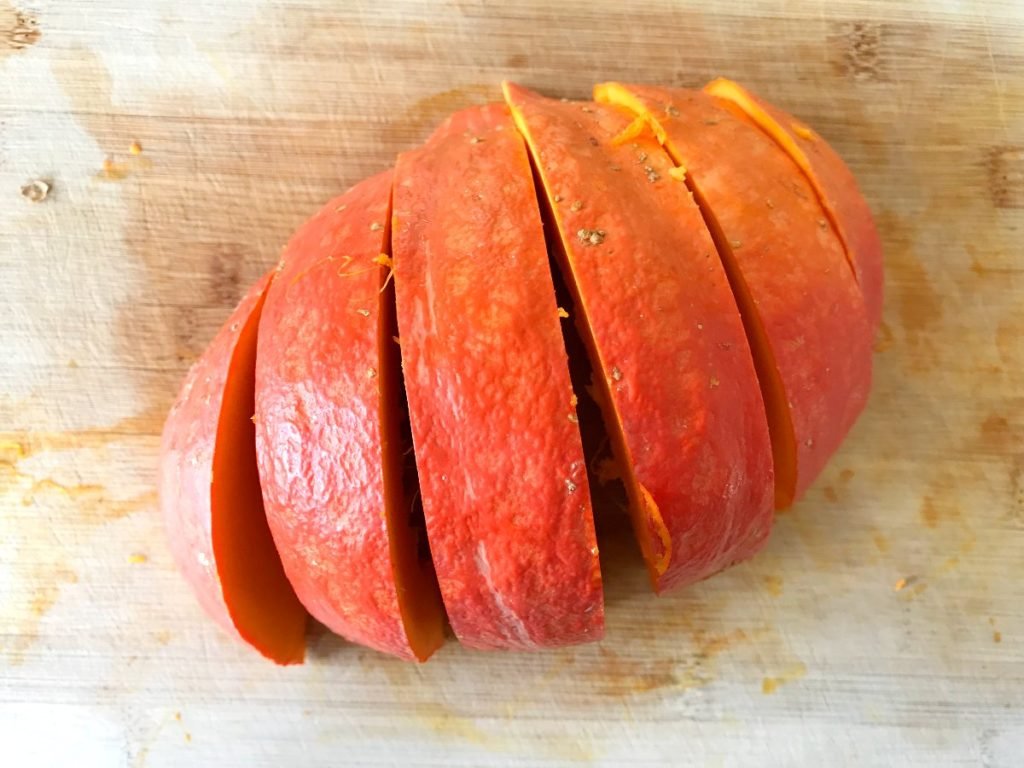 Prepare other Ingredients
Chop the onion into chunks (don't have to be very small). Chop the carrots and peel and chop the ginger. Carrots can be chopped coarsely, just not too thick. I used to chop them into small little squares (which took a lot more time), but chopping them into plain circles also works. They're small enough that the carrots will cook through.
Sauté Vegetables
Heat some oil in a medium-sized pot and add the carrots, onions, and ginger. Sauté for 4-5 minutes.
Add the chopped squash and add enough water to the pot to just about cover the squash. This amount will vary depending on the size of your pumpkin. Add less water if you want the soup to be more thick.
Bring water to a boil, reduce heat, cover and let everything simmer for 12-15 minutes. You will see the squash becomes soft and will definitely be soft when pierced with a fork.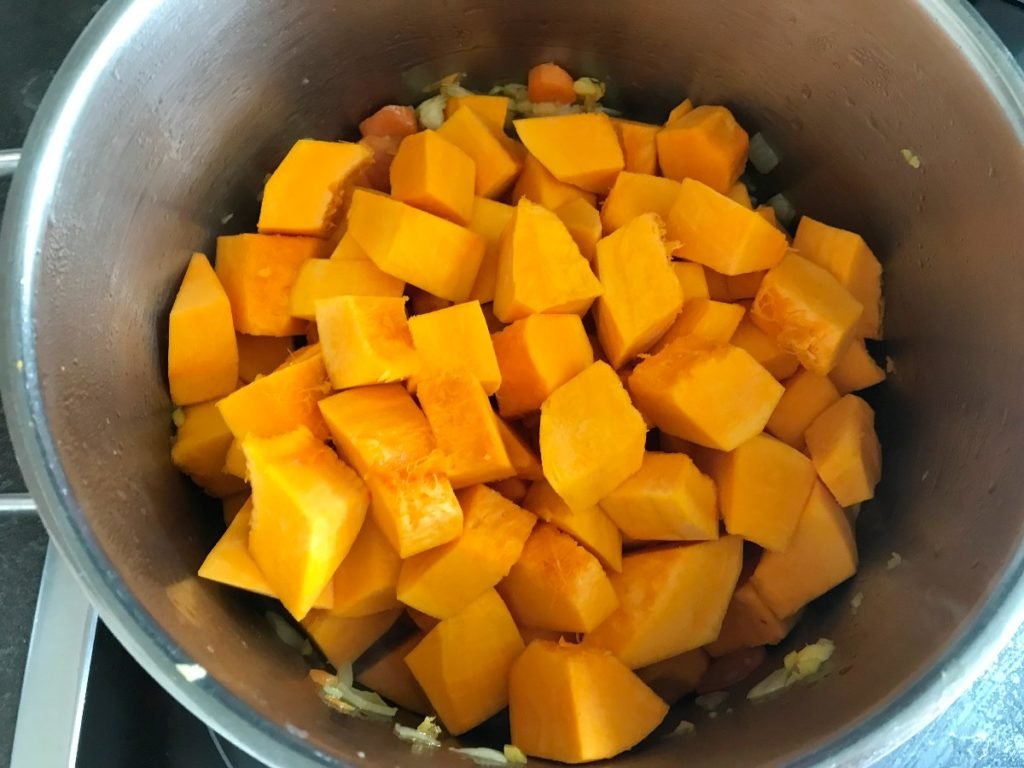 Remove cooked vegetables from heat and using an immersion blender, blend everything together. Add salt and pepper and blend again. If the soup is too thick for your liking, add more water to make it thinner.
Serve.
What to serve with Red Kuri Squash Soup?
Throw some pumpkin seeds on the top of the soup and a bit of chopped parsley to make it it look good. Cream and sour cream also taste good in this soup.
Lastly, if you make this Creamy Red Kuri Squash Soup, make sure to leave a comment and/or give this recipe a rating here! I'd love to hear back from you and will do my best to answer and respond to every comment. And of course, don't forget to tag me on Instagram if you make this recipe. I'd love to see the photos of the recipes you have made!
Print Recipe
Creamy Red Kuri Squash Soup
Creamy, heart-warming and delicious red kuri squash (hokkaido pumpkin) soup that is perfect for fall.
Ingredients
1

Red Kuri Squash or Hokkaido Pumpkin

4

Carrots

1

Medium onion

1

inch

long piece of Ginger

(or to taste)

1-2

tbsp

Olive oil

4 ½

cups

Water

(or more if preferred)

½

tsp

Salt

(or to taste)

Black pepper

(to taste)
Instructions
Cut the red kuri squash in half, remove the seeds, peel it and chop into 1-2 inch sized pieces. Set aside.

Peel and chop the carrots, onion, and finely mince the ginger.

Heat a medium soup pot and add olive oil.

Add onions, carrots, and ginger and sauté for 4-5 minutes.

Add the pumpkin and pour water into the pot. Enough to barely cover the pumpkin. Bring to boil, reduce heat, cover and simmer for 12-15 minutes.

Remove from heat and blend using the immersion blender. Add salt and pepper and blend again. Add more water if you want the soup to be less thick.
Check out these additional, cozy soup recipes perfect for fall:
Chicken and Wild Rice Soup with Mushrooms