Egg Noodle Soup with Chicken
This egg noodle soup with chicken is hearty and heart-warming and full of flavor. With homemade chicken broth, fresh garden greens, and seasonings, it is an easy, flavorful Russian soup that you will make again and again.
Not sure about other cultures, but Russians (and maybe all Slavic groups), eat soup at least once a week. The saying is you need to eat liquid food because it's good for your stomach. Along with other soups, like the red borsch, I basically grew up eating this soup. My mom even makes her own noodles for it. I plan to make the noodles myself at some point, as well. I just need to get a noodle making machine:)
Some of the links on this page might be affiliate links. View my Privacy Policy for details.
So this particular recipe and process is actually how my mama-in-law makes it – using store bought egg noodles and cooking the noodles separately from the broth (my mom cooks them in the broth). Nowadays, there are a lot of good options for egg noodles (at least here in Germany), so it is not necessary to make your own, unless you really want to. We eat this soup at least once a week. Since it is so easy to make, I usually make it on the day I do grocery shopping since that takes time out of my day and I really don't want to do anything after that.
Ingredients for Egg Noodle Soup
Chicken broth – since this is like the main ingredient for the soup, you have to make sure you are using good quality chicken broth. I only make this soup using the chicken broth I make at home using organic chicken. That's what I recommend using as you can't beat homemade broth. If you do need to use store-bought broth, use something like this Pacific Foods broth (4.6 rating with almost 5 thousand reviews). Or this Swanson, Less sodium broth seems to be a popular option as well. Or check your local grocery stores for their options.
Egg Noodles – As the name implies, the best noodles for this soup are egg noodles, preferably thin, short egg noodles. They can also be a bit longer, maybe like 2 inches, but I find them harder to eat, especially if you are cooking for kids. So my favorite noodles are ones that are thin and about half an inch long.
Chicken meat – I cook a whole chicken when I make my own chicken broth and that is what I add to the soup. Left over chicken gets frozen along with the broth and then I also have meat for future soups (see my post on making chicken broth). When I don't have any meat, I just omit it. There is enough flavor in the broth, that the soup doesn't need it.
Alternatively, you could cook a couple chicken thighs and use those in the soup (just add water, chicken, bay leaf, black pepper corns and salt to a pot, bring to a boil, reduce heat and cook until done – about 20 minutes).
Optional ingredients – dill, parsley, green onion. I usually use whatever I have in my garden. In the winter, it's mostly dill because that's what I have frozen from my garden harvest.
Seasonings – we add fresh ground pepper to the soup and salt when necessary. I usually cook my broth with less salt and control the salt levels when serving. But if your broth is salty enough, you don't need to add any extra salt. Add black pepper to taste, or omit.
How to prepare Egg Noodle Soup with Chicken
Bring water to a boil and add salt. Cook the egg noodles in the water according to package instructions. My noodles only need 5 minutes to cook since they are so thin. The package says to cook for 5 minutes and then check the noodles for desired doneness. Once the noodles are cooked, pour them into a fine mesh sieve to drain.
While the noodles are cooking, heat up the chicken broth in a separate saucepan. When I use my frozen chicken broth, I take it out of the freezer the night before so that it can thaw. When I forget to take it out of the freezer, then I put it into a bowl of cold water on the counter and it usually thaws in a couple of hours.
Add the broth to the bowls and then the greens (if using), meat, and salt and pepper, if desired. Served with some crusty bread or as is.
When I make my big batch of chicken broth, I have a whole chicken so I serve that along with the soup for anyone who wants extra meat. When I use the frozen broth, there is usually enough meat frozen with the broth that also gets served in each bowl. Otherwise, I serve without meat. If you are cooking the meat separately for the soup, you would need to plan in the extra time – usually at least 20 minutes.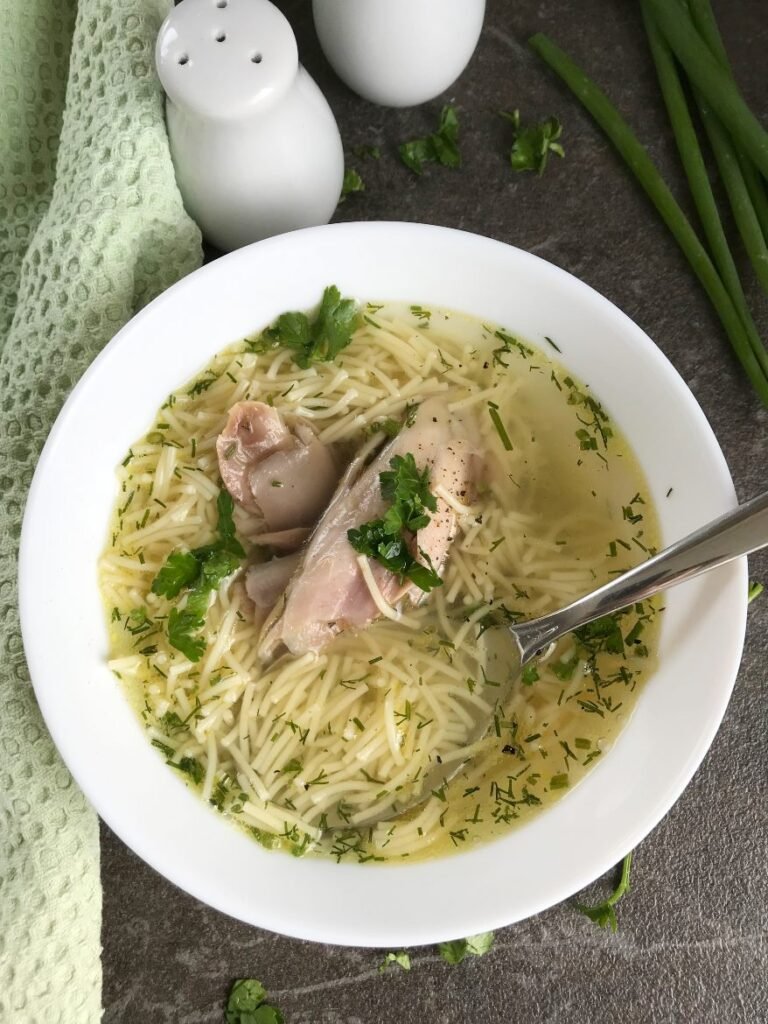 This egg noodle soup with chicken does not disappoint. It is full of flavor thanks to the homemade broth, the greens, and the seasonings. This soup is also very easy to make when you have good chicken broth on hand.
Lastly, if you make this egg noodle soup with chicken, make sure to leave a comment and/or give this recipe a rating here! I'd love to hear back from you and will do my best to answer and respond to every comment. And of course, don't forget to tag me on Instagram if you make this recipe. I'd love to see the photos of the recipes you have made!
Print Recipe
Egg Noodle Soup with Chicken
Easy egg noodle soup with chicken using chicken broth, egg noodles, chicken meat, and greens.
Ingredients
2½ – 3

cups

Chicken broth

½

cup

Noodles

uncooked

½

cup

Cooked chicken meat

(optional)

Dill, parsley, green onion

(optional)

Salt and Pepper

to taste
Instructions
Using a small saucepan, cook the noodles according to package instructions.

Meanwhile, in a second small saucepan heat up the chicken broth with meat (if using). If cooking meat separately, cook that ahead of time.

Drain noodles using a fine mesh sieve and add to each individual plate.

Add broth and chicken meat to each plate.

Garnish with dill, parsley, and/or green onion and season with salt and pepper if needed.
Notes
– When I make chicken broth, the cooked chicken gets served in this soup. I also freeze the leftover chicken along with the broth in individual jars (see post on making chicken broth) and use it along with the broth in this soup as normal. If there is no meat left over, I make this soup without meat. Alternatively, you can cook a couple chicken thighs in a separate pot. This would increase your cooking time.
– The main ingredient in this soup is the chicken broth so it has to be a good quality broth, preferably homemade from organic chicken.
Additional, yummy soup recipes to try: