Sausage Stew with Broccoli and Barley
Winter is still here…and what's better than a comforting bowl of soup to make all that dreariness go away (well, kind of. At least to make it better). This Sausage Stew with Broccoli and Barley recipe comes from an old grocery store ad which my mother-in-law found many years back (Edeka). It's been a staple in our house for a few years now, as well. The ingredients are simple, colorful and the dish comes together fast. I hope you enjoy the Sausage Stew with Broccoli and Barley as much as we do.
The original recipe for this stew uses Cabanossi sausage, which is basically a type of sausage that is similar to salami. Here is a site I found which explains in more detail what Cabanossi is. (And here is a blog post I found, which details how you can even make it yourself: Make Cabanossi Yourself). Anyway, the sausage is quite popular here in Germany. Here is an example of one I found on Amazon. The mini ones are basically just an inch long instead of the normal length. If you can't find anything like that, feel free to use any dry sausage, like the spanish chorizo, or normal salami or sausage sticks.
Please note that some of the links on this page might be affiliate links. View my Privacy Policy for details.
Sausage Stew Recipe
To start off, cook the 1/2 cup of barley using 1 1/2 cups water (this will give you 1 1/2 cups cooked barley). You can find detailed instructions with pictures in my post How to cook barley.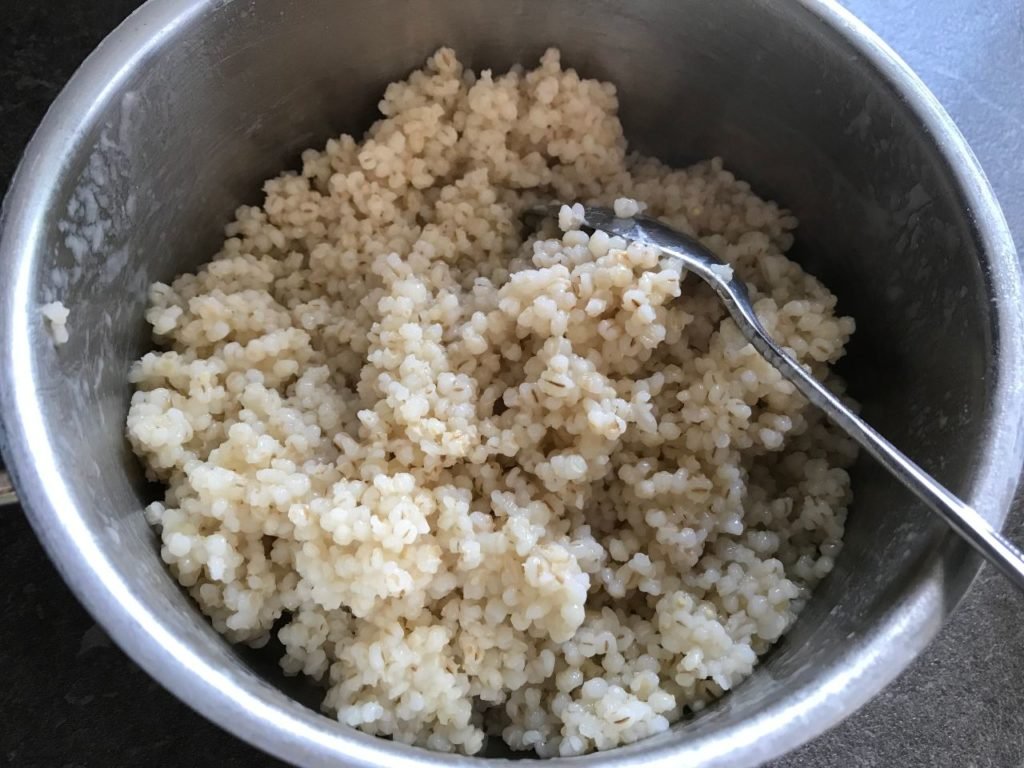 As the barley is cooking, prep all your other ingredients. Using a cutting board, cut broccoli into bite-sized pieces, pepper into 1cm portions, and Cabanossi and leek into rings as seen here. Chop basil into small pieces.
Once done with the prep work, heat a heavy bottomed pot or dutch-oven (I have one something like this) and add the olive oil to the pan. Once oil is hot, add leeks and sauté them for a minute or two until soft (though leeks are not hard to begin with of course 🙂
Next, add the cut vegetables and Cabannosi sausage to the pot and sauté for 5-8 minutes more (Sauté longer if you like your broccoli more soft in the end). Add the cooked barley to the vegetables and sauté for a couple minutes longer (you can also just sauté everything at the same time if you like).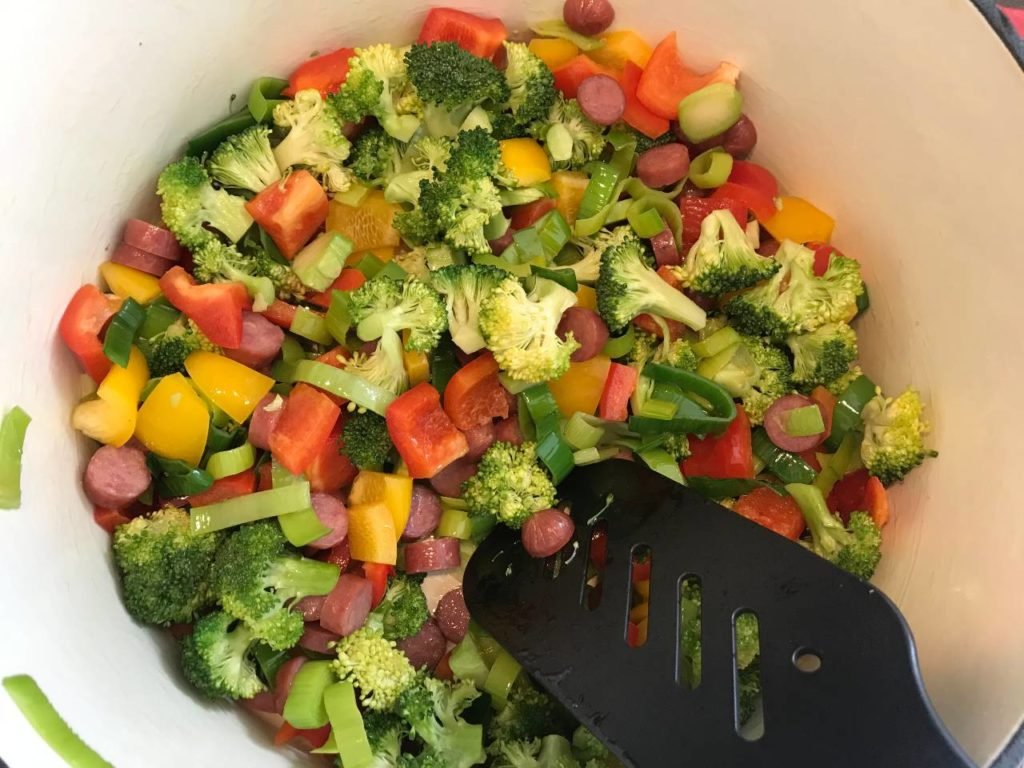 Add the chicken broth to the pot. Using a citrus juicer, juice one orange and add the juice to the pot (The guard of my mandolin slicer doubles down as a juicer, the link above shows a similar juicer to mine, though there are many, many options out there).
Add salt, pepper, allspice, chopped basil and Tabasco sauce. Remember, Tabasco is very strong. Using a measuring spoon, add 1/2 tsp at first. If you like your food spicy, add more. I used 1 tsp here as we like our food spicy. You can also just omit it if you don't like spicy foods.
If you like your soup to be more thin, then add additional water and bring to a simmer again. If you like your soup more thick like a stew, don't add any more water or add less water. I ended up adding about 2 cups more water in addition to the chicken broth. Mix all together, bring to a quick simmer and the Sausage Stew is ready for serving. Serve with a warm baguette or a fresh slice of bread.
Lastly, if you make this Sausage Stew with Broccoli and Barley, make sure to leave a comment and/or give this recipe a rating here! I'd love to hear back from you and will do my best to answer and respond to every comment. And of course, don't forget to tag me on Instagram if you make this recipe. I'd love to see the photos of the recipes you have made!
Other Hearty Recipes:
Here is the handy recipe card with all the details.
Print Recipe
Sausage Stew with Broccoli and Barley
Hearty stew with broccoli and cabanossi (salami/sausage). The tabasco sauce makes it a very heart-warming dish for those cold, dreary days.
Ingredients
1 1/2

cups

(240g) Cooked barley

1/2 cup uncooked gives 1 1/2 cups cooked

5.5-7.5

oz

(150-200g) Broccoli

4.5

oz

(125g) Cabanossi or Salami sausage

1/2

red bell pepper

1/2

yellow bell pepper

1-2

tbsp

Olive Oil

1/2

Leek

3

cups

(650ml) Chicken broth

1/2

tsp

Tabasco hot sauce

1-2

cups

(300ml) Water

1

juice of one orange

freshly pressed

1/2

tsp

Thyme

1

handful

basil leaves

chopped

1

pinch

allspice

optional

Salt and Pepper

to taste
Instructions
Cut broccoli into bite-sized pieces, pepper into 1cm portions, and cabannosi and leek into rings. Chop the basil leaves into smaller pieces.

In a big, heavy bottom pot, sauté leek in olive oil until soft.

Add broccoli, pepper, and Cabanossi. Sauté another 5 minutes.

Add barley and mix well together.

Add chicken broth and juice of one orange and mix all well together. Bring to slow boil.

Add chopped basil and the rest of the herbs and spices and the Tabasco sauce. Season with salt and pepper to taste. Serve hot.
Notes
Since broth can have different levels of salt, check the salt level at the end and add more when needed (so as not to oversalt).

If you like your soup more runny, add more water, if you like it more like a thick stew, then add less or no water.