Raspberry Tea for Colds with Lemon and Honey
This Raspberry tea for colds is one of those healthy cold tea remedies that is also very very tasty. You get all the awesome vitamins from raspberries and lemon and all the healing properties of honey. So good!
This tea for colds and coughs has been in our family for a long time. My first memories of it are my mom telling me to make it when I felt a cold coming and lately, we've been making it quite a lot around here. It's especially useful in the winter months. The raspberries and lemons are full of vitamin C and of course honey has all those healing properties. If you're not feeling well, or feel a cold coming, give this drink a try. It seriously helps!
Some of the links on this page might be affiliate links. View my Privacy Policy for details.
Ingredients for Raspberry Tea for Colds
Raspberries – frozen or fresh
Water – hot or boiling makes the preparation go faster, otherwise, heat it up along with the raspberries (see below)
Lemon – fresh lemon to get the lemon juice
Honey – raw is best
Ginger (optional)
Quick Video How-to for Raspberry Tea
Preparing the Tea – Two Options
Frozen Raspberries
I usually pick raspberries in the summer and freeze to use them in the winter since fresh raspberries are very expensive in the winter. If using frozen raspberries, add the raspberries to a cup that can be heated on the stove. I have a little stainless steel pitcher that I use for this. It's something like a milk frothing pitcher. A small saucepan would work as well. Heat the water with the raspberries using the stove as the frozen raspberries will pretty much cool the water. You can also use a microwave, but we don't have one, so I don't use one.
Fresh Raspberries
If using fresh raspberries, just add them to a cup and add hot water. Make sure the water is hot enough for your taste and you can proceed to the next step.
Once the water and raspberries are hot, pour them into a serving cup or mug and squeeze the juice of half of the lemon into the raspberry tea. Then add the honey and mix well. Add more honey after tasting the tea if you find it to be too sour for you.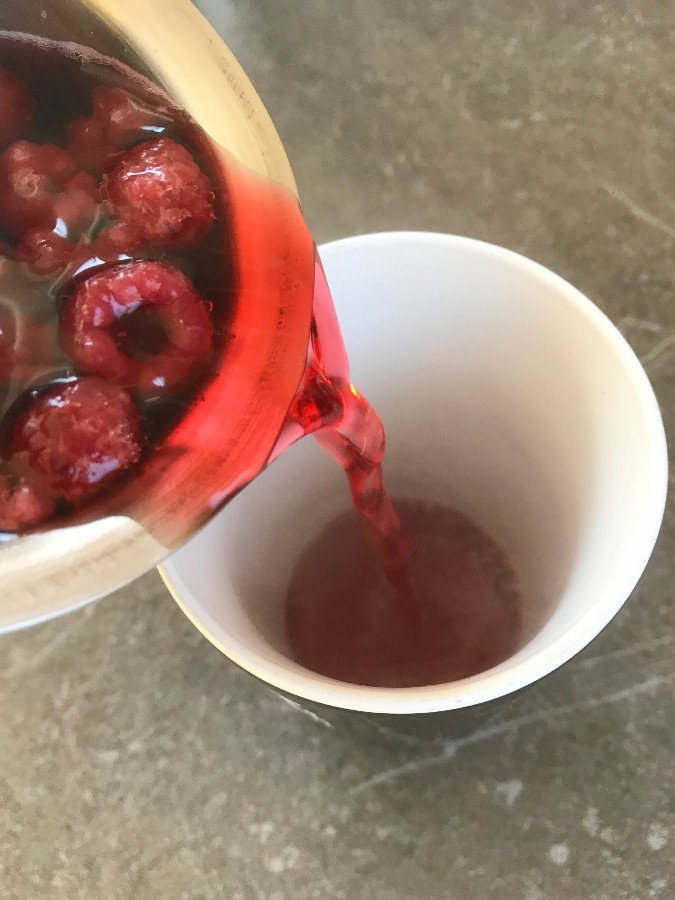 A Note About Honey: Note that the honey loses it's healing properties if heated (check out Heating Honey – Pros and Cons from Sleeping Bear Farms). So you need to make sure the water is not too hot before adding the honey. With this said, you want the tea to be hot enough so that it's still soothing when you are drinking it. It's a delicate balance to achieve. I usually like my hot drinks to be really hot, so I sacrifice a little of the benefits of the honey on the altar of tea enjoyment. Ha. But you can do this however you like. Even use a thermometer if you want to be really precise. Seems heating honey to 95­ degrees Fahrenheit should be okay, but that would probably be too cold for me to really enjoy my tea:)
Raspberry Tea for Colds Variations
Ginger – take a piece of ginger (1/2in. to 1in. long) and mince it finely. Add to the tea along with the raspberries and let them stand a bit. Ginger is something we learned about after moving to the US, so it was never part of this tea for us. But Ginger has a lot of healing properties as well, so it's awesome to add to this tea.
Black Tea – use black tea instead of water for making this raspberry tea. If you enjoy normal black tea, you will probably enjoy the black tea version. It's a nice twist on the normal raspberry tea recipe and will give you a different flavor profile than just water.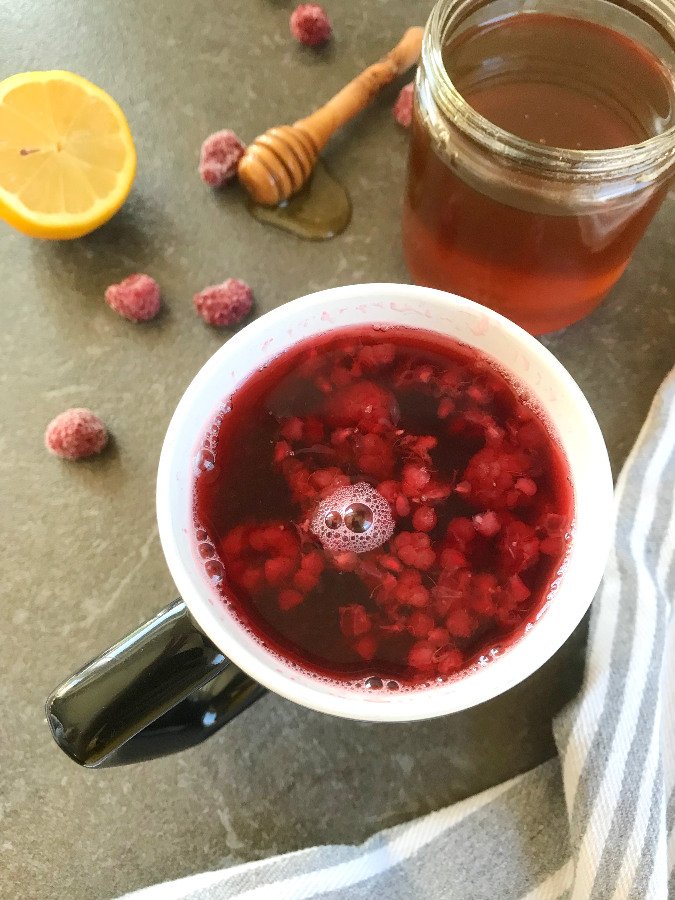 Serving Raspberry Tea
Let the raspberry tea stand for a bit so that all flavors meld together. The raspberries are meant to be eaten after drinking the tea as a lot of the beneficial properties of raspberries are found in the seeds themselves.
Lastly, if you make this Raspberry Tea for Colds, make sure to leave a comment and/or give this recipe a rating here! I'd love to hear back from you and will do my best to answer and respond to every comment. And of course, don't forget to tag me on Instagram if you make this recipe. I'd love to see the photos of the recipes you have made!
Print Recipe
Raspberry Tea for Colds with Lemon and Honey
Tasty and soothing tea recipe for when you feel a cold coming on.
Ingredients
½

cup

Raspberries

(fresh or frozen)

1

cup

Hot water

Juice of half a lemon

(or to taste)

2

tsp

Raw honey

(add more if tea is too sour)
Instructions
If using frozen raspberries, add the raspberries to a stainless steel heat-proof cup/pitcher or small saucepan and pour in a cup of hot water. Heat the water and raspberries on the stove as the frozen raspberries will quickly cool the water. Proceed to step 3.

If using fresh raspberries, add them to a cup or mug and pour hot water over them.

Add the raspberry tea to a cup or mug (if not done yet), squeeze the juice of half a lemon into the tea.

Add 2 tsp of honey (or to taste) to the tea. Mix well.
Notes
– The raspberries along with the seeds are meant to be eaten with the tea as the seeds themselves have a lot of benefits in them.
DISCLAIMER: I am not a doctor, nor a healthcare professional and this should not be taken as professional medical advice. I am just sharing homemade remedies that work for our family and that taste good. Reach out to your doctor for information on your specific situation.
Other Drink Recipes on the Blog: