German Hot Chocolate Cake Recipe
This German hot chocolate cake is an awesome mixture of ground hazelnuts, hot chocolate, and crumbs from German zwieback toasts (don't worry, these are available in the US). In addition, it has a whole bunch of chocolate sprinkles in there which melt when baked and leave little pockets of chocolate goodness in the cake. The cake is just irresistible served with whipped cream and strawberries (or other fruit).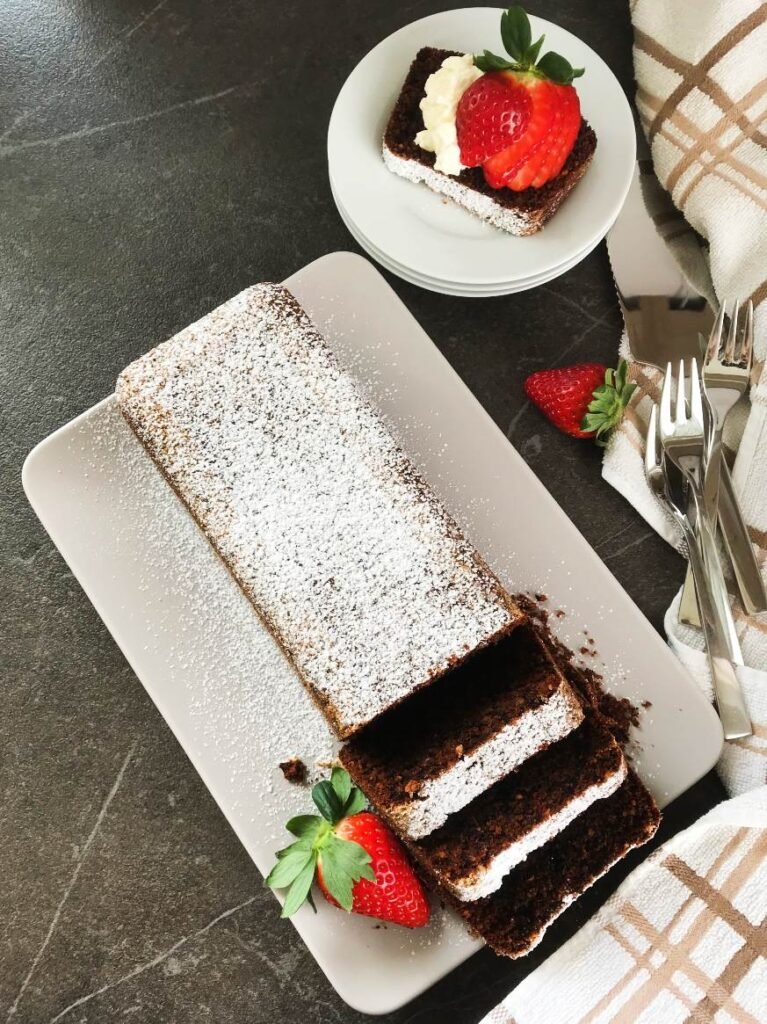 Some of the links on this page might be affiliate links. View my Privacy Policy for details.
Ingredients
Zwieback Toast – sweet crisp German toast that I guess people in the US buy for teething babies:) I promise these taste great even if you're not a baby and not teething. lol.
Chocolate Sprinkles – I love using dark chocolate sprinkles, but milk chocolate ones are good, too. This gives the cake little melted chocolate pockets everywhere after it's baked.
Hot Chocolate – I used just regular hot chocolate. Any kind should work fine. You can also use baking cocoa instead of the hot chocolate if that is what you have on hand.
Ground Hazelnuts – can also use hazelnut flour or meal.
Eggs
Sugar
Baking powder & salt
Vanilla extract or Rum – learn how to make your own or there are plenty of different ones available online or at the store.
Hot Chocolate Cake Recipe Instructions
Start off by preparing the baking pan. Butter the pan with some butter on the bottom and sides. Then sprinkle ground hazelnuts all around.
Note about pans: the loaf baking pan I am using is 12 x 4.5 inches big, which seems to be the standard in Germany. Most normal US loaf past are shorter and wider. This shouldn't have much of an impact on the cake. Maybe the baking time would need to be adjusted a bit. But a good rule of thumb is to bake until a toothpick inserted in the center comes out clean.
Preheat the oven to 320° F (160° C).
Using a blender or a food processor, pulverize the Zwieback, until it is very fine, like flour (I just have a small smoothie blender and it works fine). Then, combine all the dry ingredients – zwieback crumbs, hot chocolate, hazelnuts, chocolate sprinkles, baking powder and salt – together in a bowl and mix well. Set aside.
Meanwhile, place the sugar and butter in a medium-sized bowl. Beat using a hand mixer until well combined. Add the eggs one at a time, making sure to beat well after each addition.
Add the vanilla extract or rum to the egg and sugar mixture. Beat well and make sure to scrape the sides of the bowl.
Add the dry ingredients to the wet ingredients and beat them together or mix well if using a spoon. Transfer the batter to the prepared baking pan.
Bake the hot chocolate cake in a preheated oven at 340° F for 60 minutes.
Once the cake is done, let it rest for a few minutes on the counter. Then, use a dull butter knife to loosen the edges and then flip the cake onto a serving platter.
Let the cake cool completely before sprinkling with powdered sugar and serving.
Serving Hot Chocolate Cake
The easiest way to serve this hot chocolate cake is just to sprinkle it with powdered sugar and slice and serve! It's perfect with a cup of coffee.
However, we really love to eat this cake with whipped cream. There is something about whipped cream that makes everything taste better, right? You will probably need 2 cups of heavy whipping cream for a cake this size. Check out my post on how to make whipped cream for all the details on making the cream. Add some kind of a fruit like raspberries or strawberries for some contrast and you got yourself an awesome-looking and tasty cake!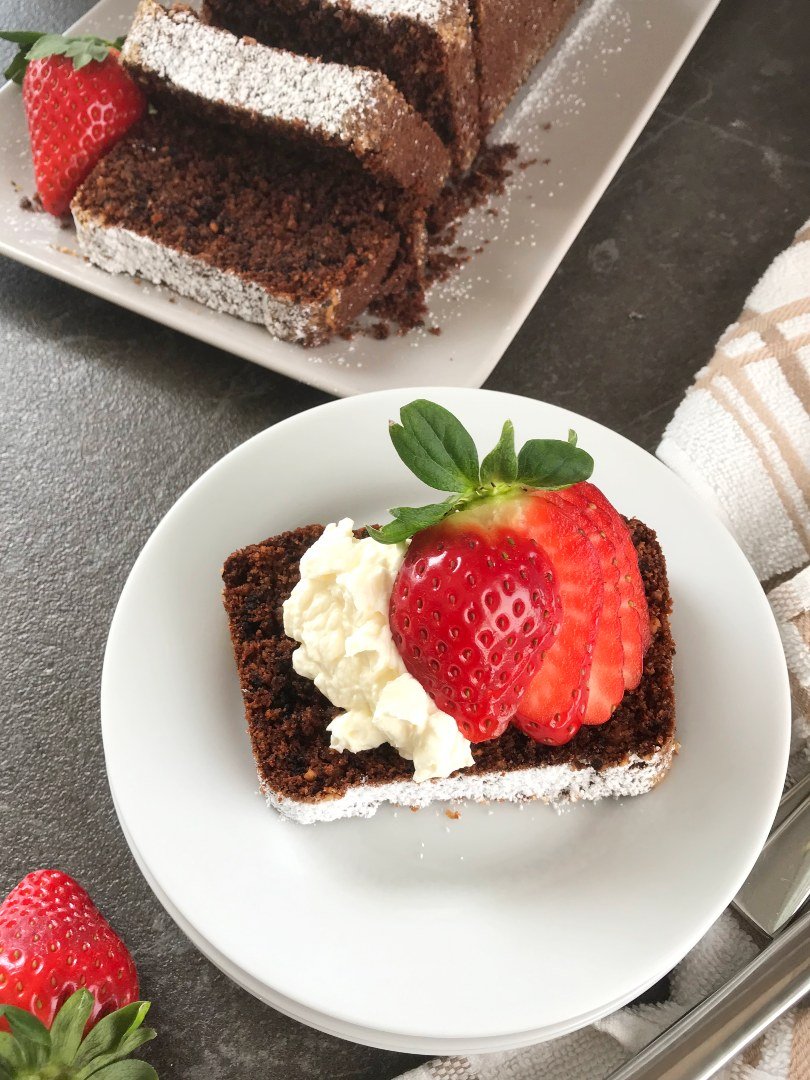 Lastly, if you make this German Hot Chocolate Cake Recipe, make sure to leave a comment and/or give this recipe a rating here! I'd love to hear back from you and will do my best to answer and respond to every comment. And of course, don't forget to tag me on Instagram if you make this recipe. I'd love to see the photos of the recipes you have made!
Print Recipe
German Hot Chocolate Cake Recipe
Simple chocolate cake with chocolate sprinkles, hazelnuts and hot chocolate. Perfect for any occasion.
Ingredients
4.2oz (120g)

Zwieback (dry, sweet bread)

4.2oz (120g)

Ground hazelnuts

3.5oz (100g)

Hot chocolate or cocoa

3.5oz (100g)

Chocolate sprinkles

1 tbsp (15g)

Baking powder

Pinch of salt

4.2oz (120g)

Sugar

4.2oz (120g)

Butter

4

Eggs

1

tsp

Vanillla extract or Rum

Powdered Sugar

(enough to sprinkle on cake)
For Serving
Whipped Cream

Fresh fruit (strawberries, raspberries)
Instructions
Butter your form and sprinkle with ground hazelnuts or with flour.

Preheat oven to 320° F (160­° C).

Using a food processor or a blender, pulverize the zweiback until you have fine crumbs (like flour).

Combine zwieback crumbs, ground hazelnuts, hot chocolate, chocolate sprinkles, baking powder and salt in a bowl and mix well. Set aside.

Beat sugar and butter together until well combined. Add eggs one at a time beating well after each addition. Add rum or vanilla extract (if using) and beat until combined.

Add the dry ingredients to the wet ingredients and beat until just combined.

Spread batter into the prepared baking form and bake for 1 hour.

Remove the cake from the oven and let rest for 5-10 minutes. Then, loosen the sides using a blunt butter knife. Flip the cake over onto a serving plate.

Let the cake cool completely. Then, sprinkle with powdered sugar.

Serve with strawberries or raspberries and whipped cream.