Quick Homemade Sauerkraut
This Homemade Sauerkraut recipe is a quick and easy way to make this tasty, fermented salad. The end result gives you a crunchy salad that is perfectly sour. Combined with a fresh, thinly sliced onion and some vegetable oil at the end, the salad is irresistible.
If you're new to fermenting, making sauerkraut is a good place to start as it is hard to go wrong here. With this recipe, the cabbage only rests for one day at room temperature or until the bubbles start forming. After that, it's transferred to the fridge where the fermentation process continues, but more slowly. This recipe comes from my mom and I try to make it at least once a year when cabbage season comes around. The sauerkraut stores well in the fridge (up to 6 months or more).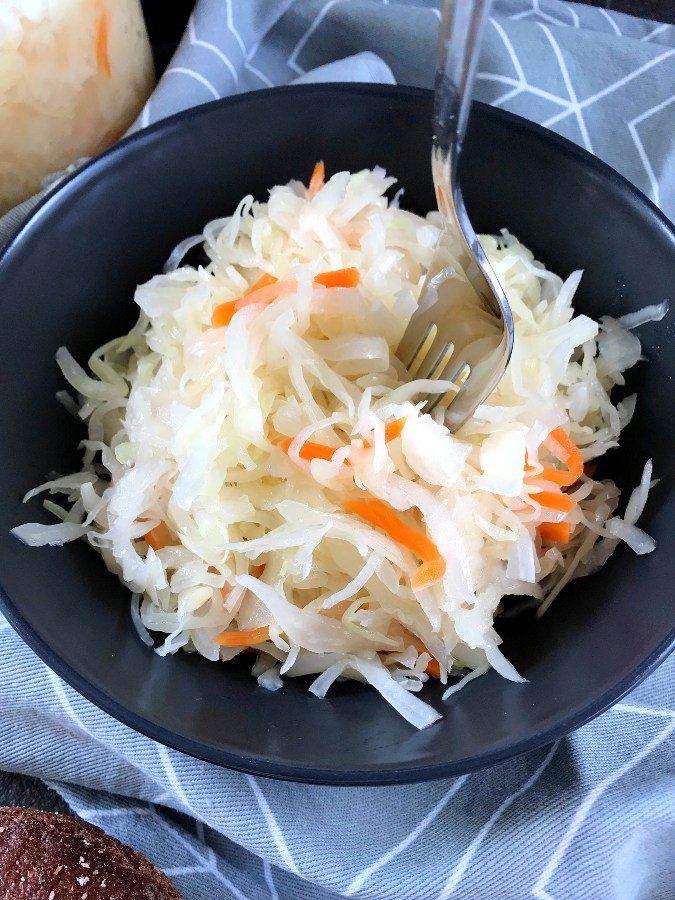 Please note that some of the links on this page might be affiliate links. View my Privacy Policy for details.
Benefits of Sauerkraut
Sauerkraut means "sour cabbage" when translated from German. To become sauerkraut, the cabbage goes through a fermentation process which gives off beneficial "live" bacteria which are very good for us. Sauerkraut promotes digestion, supports the immune system, and provides a host of other benefits. The Top 5 Benefits of Saurkraut post from BBC good food and the 13 Impressive Health Benefits of Saurkraut from Natural Food Series offer detailed information on the many benefits of sauerkraut if you'd like to know more.
What cabbage should I use for making sauerkraut?
Use cabbage that is light green, almost white, in color (as opposed to a deeper green) as it produces more juice and gives crispier results in this sauerkraut recipe
How long do you ferment homemade sauerkraut?
Ferment sauerkraut for 24-36 hours on the counter and then transfer it to a glass jar and let it ferment further for at least a week in the refrigerator. Most other posts I've read, ferment at room temperature for a week and up to four weeks before transferring to a cooler place. I've tried fermenting for 3 days before and I didn't like the result as the sauerkraut was too "soggy" (not as crunchy) for my taste. This is something that you can decide on yourself. Test and adjust the initial fermentation time as you like.
What kind of salt is best for sauerkraut?
Use any salt for making sauerkraut, just make sure it is not iodized as that can hinder fermentation.
Does Sauerkraut go bad?
Generally, homemade Sauerkraut will be good for up to 6 months (Though it never lasts that long at our house). When storing Homemade Sauerkraut in the refrigerator, make sure that the it is well-covered in brine in the jar, and that the jar lid tightly covers the jar. With that said, if you see mold growing, a bad smell, change in texture, color, or flavor, it may no longer be good. Keep in mind that the fermentation process does not stop with refrigeration, it just slows WAY down. This means that with time, the Sauerkraut will become really sour and no longer enjoyable.
Homemade Sauerkraut Recipe
Wash the cabbage and/or remove several outside leaves as necessary. Cut the cabbage in half or into fourths to make it easier to shred (keep the core as it gives you something to hold on to when shredding cabbage). Using, a mandoline slicer, shred the cabbage into fine pieces into a big bowl (I like using glass). I like my cabbage shreds to be a bit long, but there is no science to this.
Shred them as long or short as you want them to be. You can also use a knife to slice it thinly if you don't have a mandoline slicer. (Here is a great video from a chef on how to slice cabbage using a knife: Introduction to Slicing Cabbage).
Peel and shred (or thinly slice) a carrot. This part is optional. The carrot does not influence the flavor much, but gives a contrast to the cabbage and makes it look very pretty.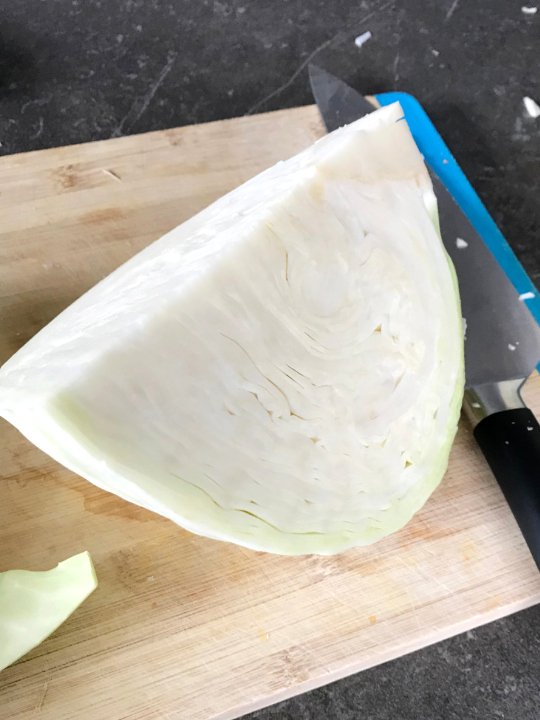 Transfer some of the cabbage into a second big bowl, sprinkle some carrots on the top, and then sprinkle with salt. Keep adding more cabbage, carrots and salt until all the ingredients are used up. Let the cabbage rest for about half hour. It will give off juices and will become softer.
Using your hands, squeeze handfuls of the cabbage, letting the juices run off into a separate bowl. Once the handful of the cabbage is mostly "squeezed out" place it into the bowl with the juices. Continue doing this until all the cabbage has been transferred to the bowl with the juices. You can also use a tamper/pounder for this step instead, if you like.
Pack the cabbage tightly in the bowl and keep pressing with your hands (or pounder) until you get as much juice out as you can and it seems like the juice is covering the cabbage. Then, using a plate and something heavy (like a water Carafe), make a press so that the cabbage is fully submerged in the juices.
Let the cabbage stand for at least 24 hours and for up to 3 days. You will see bubbles and/or foam forming in the liquid.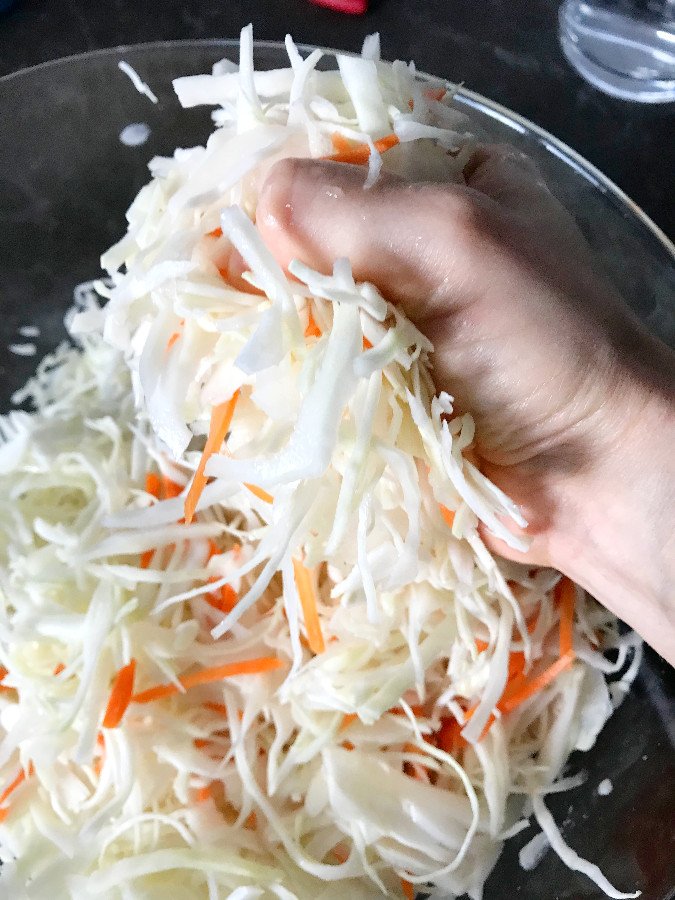 I like the sauerkraut to be crunchy in texture, so I let it stand for about 24 or 32 hours and not more. If you let it stand longer (like 3 days), the sauerkraut will not be as crunchy. Once the sauerkraut has stood long enough for your taste, transfer it to a glass jar, packing it tightly and making sure that the juice covers all the cabbage.
Tip: When transferring the cabbage into the glass jar, squeeze out any extra juices into the bowl. You won't have sauerkraut juice dripping everywhere.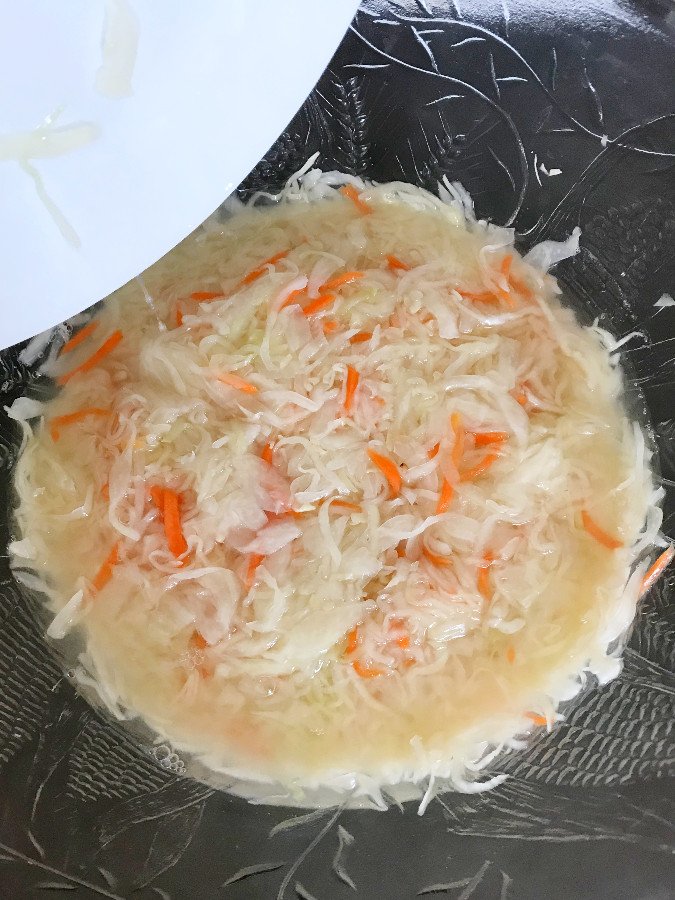 Pour any of the extra juices from the cabbage into the jar to ensure that it is fully submerged. Cover the jar and refrigerate. The sauerkraut will continue to slowly ferment in the refrigerator. Keep the sauerkraut in the refrigerator for at least a week before trying it. Open up the jar every couple of days to let out the air and push the cabbage down as needed as it has the tendency to float up.
How to serve Sauerkraut?
Eat the homemade sauerkraut raw and plain to get the most benefits out of it. I love adding some unrefined sunflower oil and a bit of fresh onion into the sauerkraut. The result is an addicting, healthy, and delicious salad. (Even toddlers love this stuff!)
Lastly, if you make this Homemade Sauerkraut, make sure to leave a comment and/or give this recipe a rating here! I'd love to hear back from you and will do my best to answer and respond to every comment. And of course, don't forget to tag me on Instagram if you make this recipe. I'd love to see the photos of the recipes you have made!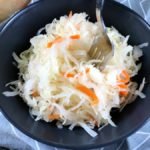 Print Recipe
Homemade Sauerkraut
Homemade Sauerkraut recipe resulting in a crunchy cabbage salad that is perfectly sour.
Servings:
1
Jar (about 1 1/2 lbs)
Ingredients
Sauerkraut
1 ½

Cabbages

(Total weight of mine was 2lb 6oz)

1

Medium Carrot

1 – 1 ½

tbsp

Salt

(about 1tbsp per every 2lb cabbage)
Serving Suggestion
Unrefined sunflower oil

¼

small onion, finely sliced
Instructions
Rinse the cabbage and remove any outer damaged leaves. Shred the cabbage finely using a Mandoline slicer or a knife. Set aside in a bowl.

Peel and finely shred a carrot.

Using a second bowl, place a layer of cabbage in there, sprinkle with some carrots, and sprinkle with salt. Keep adding cabbage, carrots, and salt until the ingredients have run out. Let the cabbage rest for at least half an hour or an hour. It will soften and give off juices.

Using your hands, squeeze handfuls of cabbage into a separate bowl forcing it to let out the juices. Add the cabbage to the juice in the bowl and keep massaging/squeezing more cabbage until all of it is in the new bowl with the juices.

Pack the cabbage tightly in a bowl and press down a while longer with your hands squeezing out as much juice as possible. The juice should cover the cabbage. Cover with an upside down (dinner) plate and place a heavy item (like a water carafe) on the top. Let stand under pressure for at least 24 hours and up to 3 days.

Remove Sauerkraut from bowl, transfer to a jar, packing tightly and refrigerate for at least a week before starting to use it. Make sure the juices are covering the cabbage.

Open up the sauerkraut every couple of days to let out the fermenting air out and to push the cabbage down as needed as it has the tendency to float up.

Sauerkraut will keep fermenting in the fridge (but at a slower pace). It will be good to eat for 6 months.
Serving Suggestion
Sprinkle some unrefined sunflower oil over a bowl of sauerkraut. Add some finely sliced onion and mix well together. Serve.
Take a look at my other healthy and delicious salads:
Easy Conehead Cabbage Salad with Pistachios