This Lemon Iced Tea is slightly tangy and slightly sweet. It is so refreshing and is made in no time. Perfect for those hot, summer days.
Please note that some of the links on this page are affiliate links. I only link to products I trust or would buy myself. Thank you for your support.
The inspiration for this tea comes from my trip to Japan in 2019. They have these cool vending machines standing on the streets (totally randomly and not attached to any building or anything) and they serve all kinds of drinks. In the summer the drinks are cold and in the winter they are warm. This was one of those drinks. I even kept the bottle cause I found it to be totally cool! And I've been making this Iced Tea ever sense.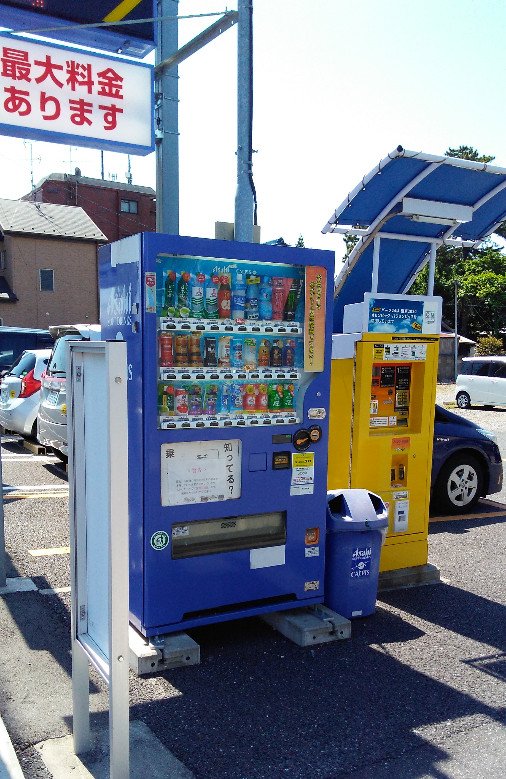 Preparing Lemon Iced Tea
Pour some boiling water into a tea cup (when using a measuring cup, I had 1 1/2 cups water). Add a black tea bag to the water and steep it. Add the 3 tablespoons sugar to the tea and mix well (Use 2 tablespoons if you want the tea to be less sweet). Let the tea cool slightly.
Cut a lemon in half. Slice off 3-4 slices from one half and juice the other half (you need 2 tablespoons lemon juice here). Here is the lemon juicer I have and it is absolutely the best. I got it at Home Goods and have been using it for many years.
Get a few mint leaves and stems (2-3), wash them and then massage them a bit until they give off a bit of the oils.
Add the brewed tea from above into a pitcher. Then get a cupful of ice cubes and add to the tea in the pitcher.
My pitcher has a story attached to it. I love getting useful things for my kitchen when traveling. And this is one of these things. I bought it in Czech Republic when we went there before New Years with my husband in 2017. I cant find anything exactly like it on Amazon, but here is one that has really good reviews.
Anyway, back to the recipe😅
Add the mint leaves to the iced tea. Then add the lemon slices and lemon juice. Lastly, add the cold water to the pitcher.
Mix everything well, pour into a glass (mine are very similar to these, but are from a German brand).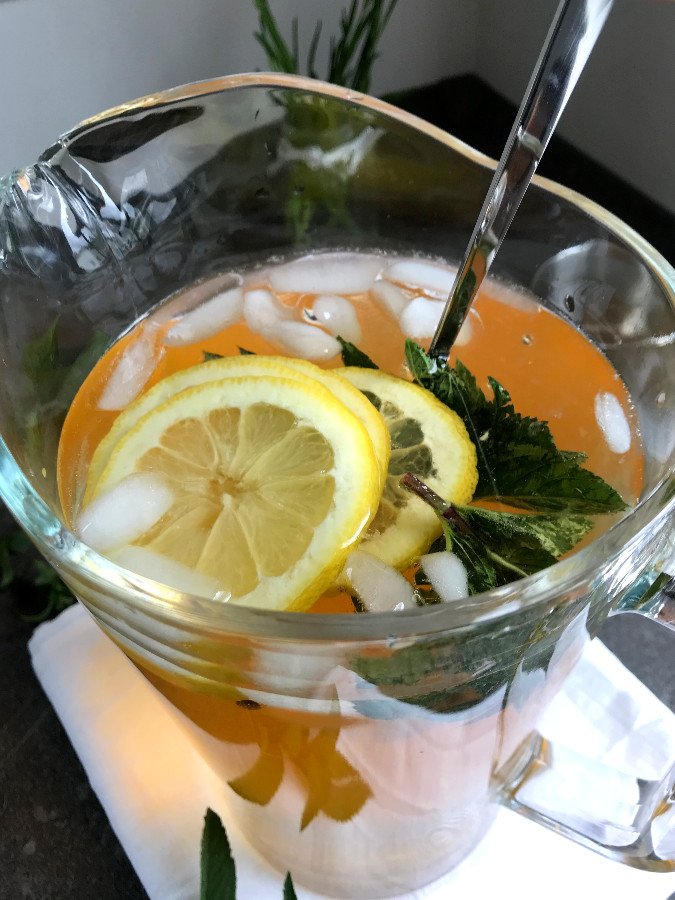 Serve.
Check out my Homemade Orange Juice with Lemon and Ginger for another tasty AND HEALTHY juice recipe:)
Print Recipe
Iced Tea with Mint
Very easy refreshing iced tea recipe.
Ingredients
1 ½

cups

Boiling water

3

heaping tbsp

Sugar

1

Black tea bag

3-4

Lemon slices

2

tbsp

Lemon Juice

2-3

Twigs of mint

1

cup

Ice cubes

3 ½

cups

Cold Water
Instructions
Brew tea using 1 ½ cups boiling water and 1 tea bag. Add sugar, stir and let cool a bit.

Slice part of the lemon and juice the rest. Massage the mint a bit until it gives off some juices.

Pour the tea into a glass pitcher, add lemon slices, lemon juice, mint twigs, ice cubes and cold water.

Stir well. Add to glasses and serve.