Greek Yogurt Coconut Chia Dessert
This Greek Yogurt Coconut Chia Dessert has a subtle coconut taste, pleasant crunchiness from the Chia Seeds, and a slight tanginess from the strawberries. It's so good that you won't be able to stop with just one serving!
Please note that some of the links on this page are affiliate links. I only link to products I trust or would buy myself. Thank you for your support.
Germans have this great tradition called Nachtisch, which is literally translated as "after the table". It is usually a creamy type of a dessert that is served after a main meal. Though cake can be served for Nachtisch, generally there is a separate Coffee and Cake time later. This dessert is perfect for this after-the-meal tradition. It hits all the right spots and will tide you over until that cake is served 😅.
What are Chia Seeds?
Chia Seeds are small seeds that are native to Mexico and South America and have been used there for thousands of years though they have only just recently become more mainstream. They are hard, but soften when they are put into liquid. They don't have much of a taste so they work very well in all kinds of recipes. If you're interested in learning more, visit this Chia Seeds page from Harvard University.
What coconut milk should I use?
The coconut milk is canned, white, and slightly thick. This is not the juice that comes from the middle of the coconut and that is very liquid. Rather, it is a creamy mixture made of coconut. Here is an option that can be bought off of Amazon. There might be other options available in your nearest grocery store.
Preparation
Combine Coconut milk and Chia Seeds. Mix until well combined. Place into refrigerator and let it stand for 30 minutes until the seeds take in liquid and soften.
In the meantime, cut the strawberries into small pieces and place into a small bowl. Add a tablespoon of sugar and mix well. Let stand until the sugar dissolves. Note the strawberries will give off juice.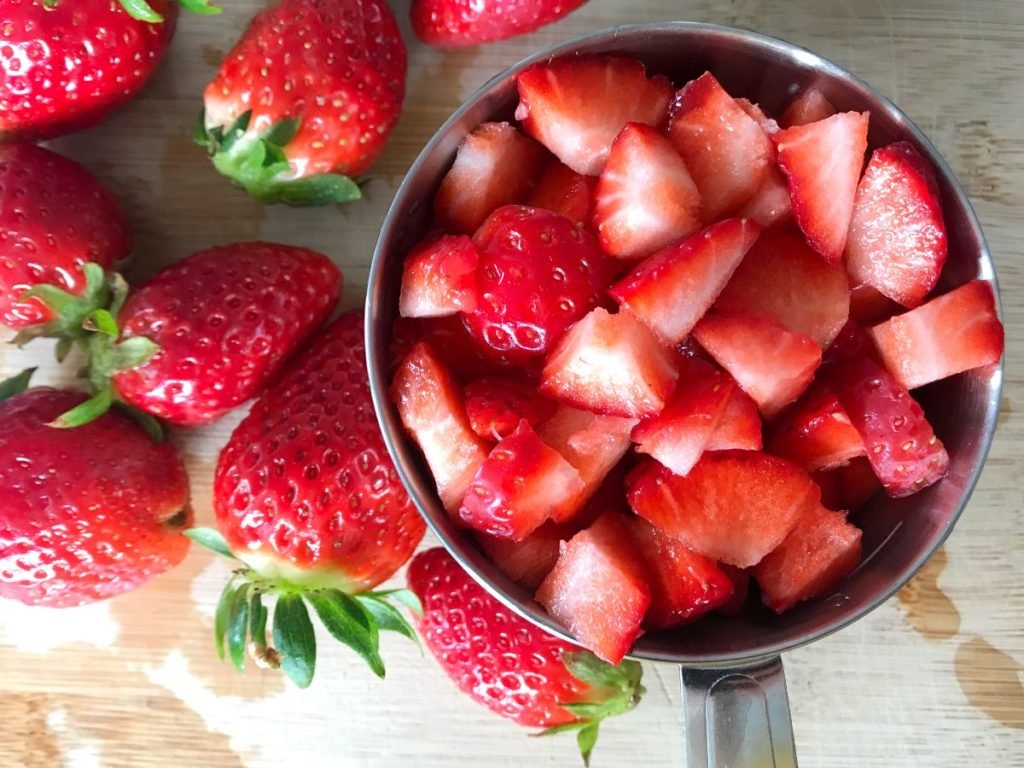 In a small bowl, combine Greek yogurt and 2 tablespoons sugar and mix well. Let stand until the sugar dissolves. This takes about 5 minutes. You will notice the yogurt will be smooth and there will be no more sugar granules visible.
Put it all together
Combine the Greek Yogurt and the Coconut Chia Seed mixtures together and mix well.
Divide the mixture evenly between 6 dessert cups (Mine are similar to these, have very thin walls and are oven-safe). Top the yogurt mixture with the cut strawberries and the sauce and refrigerate for about an hour.
These are best when served the same day, but can stay in the fridge for up to one day.
Just look at this beauty!
Print Recipe
Greek Yogurt Coconut Chia Dessert
Refreshing Greek Yogurt Dessert that is fast to prepare and tastes great!
Ingredients
2

cups

Chopped strawberries

2

tbsp

Chia seeds

(heaping)

¾

cup

Creamy coconut milk

1 ½

cups

Greek Yogurt

3

tbsp

Sugar
Instructions
Combine coconut milk and Chia seeds. Mix well and put into refrigerator for half an hour.

In the meantime, cut the strawberries into small pieces and add a tablespoon of sugar. Mix well and let stand. The sugar will dissolve and the berries will give off some juice.

In the meantime, combine the Greek Yogurt and 2 tablespoons of sugar. Mix well and let stand until the sugar dissolves (about 5 minutes).

Once the Chia seeds have stood long enough, take them out and combine with the Greek Yogurt and sugar mixture.

Divide the Greek Yogurt Chia mixture between six glass dessert glasses and top with strawberries.
Notes
-Dessert tastes best when served right away, but it can stay in the fridge for up to a day.
-If not serving right away, it is best to not top the strawberries on the Yogurt. Do that right before serving.
Follow me on Instagram, Twitter, Pinterest, and Locals!
Take a look at my other desserts like this German Quark Dessert with Strawberries!