Addicting Cold Brew Coffee (VIDEO)
Have you ever tried cold brewed coffee? If not, you are missing out. It is so easy to make at home. The only thing you need in abundance is time (and patience. lol).
I discovered cold brewed coffee a few years back and I make it almost constantly each summer once the weather turns warm. I found this recipe online back then and it has been much adjusted since then. Here is my take on cold brewed coffee!
Cold Brew Coffee Video
Read on if you'd rather read through the instructions.
Cold Brew Coffee Recipe
Some of the links on this page might be affiliate links. View my Privacy Policy for details.
Brewing the Coffee
Using a digital kitchen scale (here is the best seller scale from Amazon), measure out the amount of coffee grounds needed. It is always best to use a scale when preparing coffee to get your perfect cup of coffee. However, it's possible to go without. When I measured out this amount, it was almost one measuring cupful of coffee (see picture below).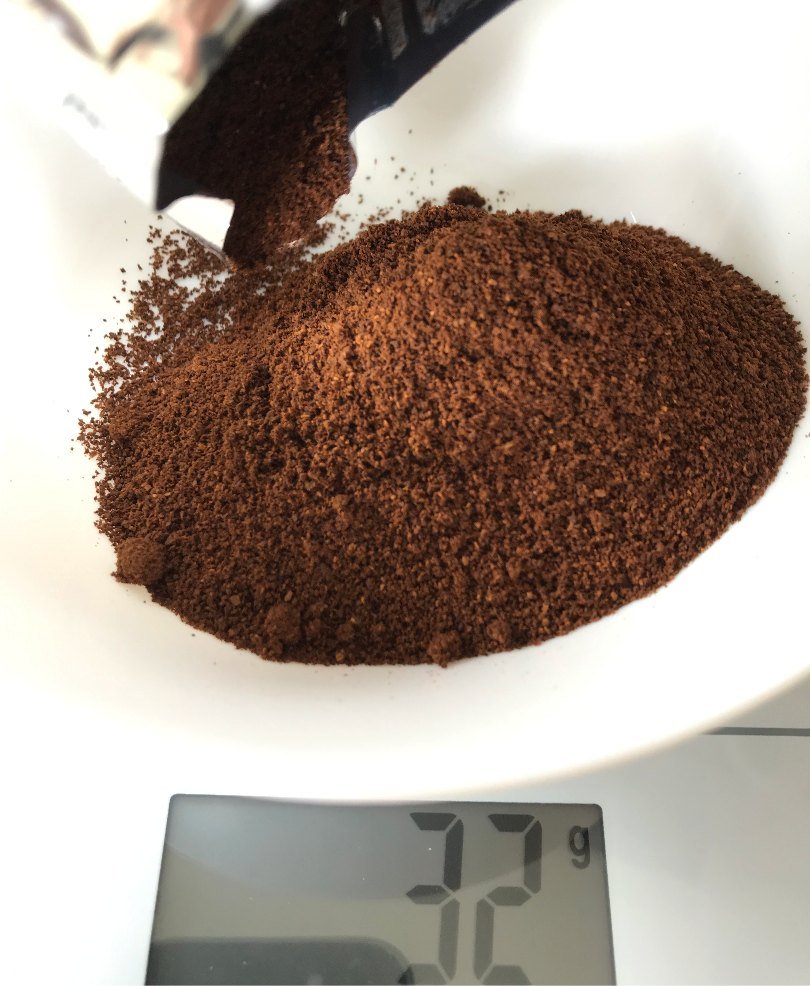 Add the coffee grounds into a big glass bowl with a lid or a clean container. I really love using a glass bowl for this, but stainless steel or plastic would work as well. Add water to the coffee grounds.
Stir the coffee and water a bit, cover with a lid, and let it stand for 12 hours. If your bowl doesn't have a lid, use plastic wrap to cover it (this is where glass bowls work better). It's important to cover the coffee so that you don't get any dust landing into it as it stands.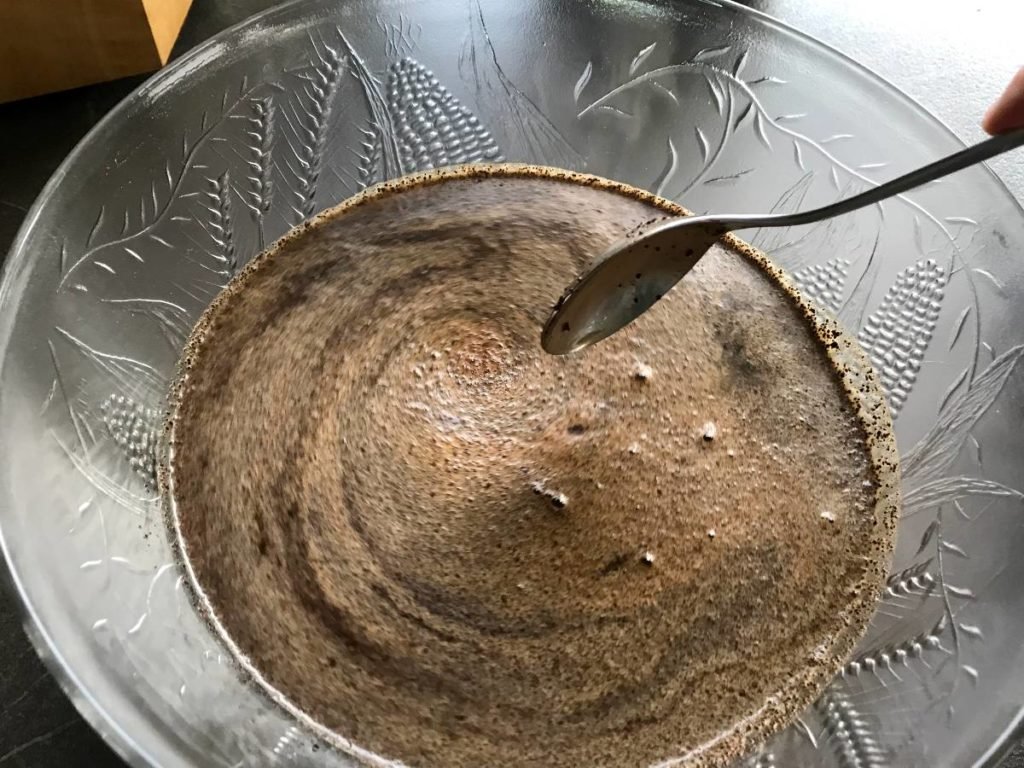 Once the coffee is done, line a sieve with a cheese cloth and place it over a big measuring cup (like this one from Pyrex), or some kind of a container that will hold the sieve and that is easy to pour from. I use a cheap plastic measuring cup as you see in the picture, but my dream is to get the Pyrex ones I link to above. There are also reusable coffee filters like this, which you can use to filter the coffee, you would just need to have something that can hold them. If you have a dripper pour over coffee maker, you can line that with a normal filter and use it as well.
Anyway, filter the coffee, and then refrigerate it in some kind of a container. I love using these glass bottles from milk for that. Here in Germany, we have milk being sold in these bottles at the store and I just reuse them for my cold brewed coffee. Amazon has options like this as well. But really, use whatever works for you.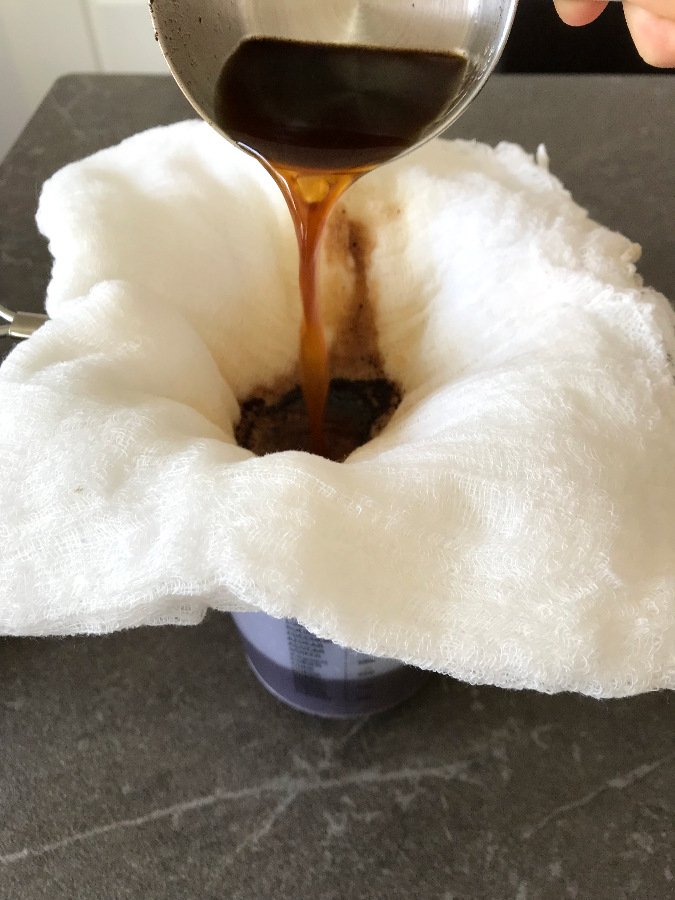 Proceed to preparing a cup of coffee and refrigerate the rest.
Preparing Cold Brew Coffee Drink
Using a tall glass, pour it about 1/4 cup full with your cold brewed coffee. Add a teaspoon of sugar and mix well until it dissolves. If your coffee has already been refrigerated, it will take longer for the sugar to dissolve. Mix until you no longer see any sugar granules at the bottom. Or you can use sweetened condensed milk instead. Or just do both like I do. Ha.
Mix everything very well. Once the coffee and sugar/condensed milk are mixed, add a few ice cubes to the cup.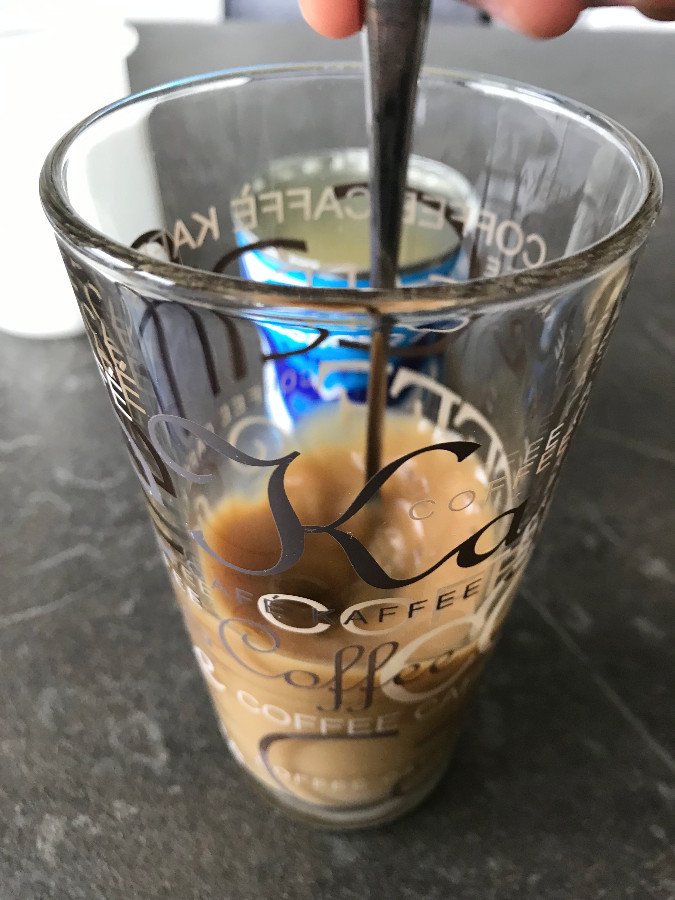 Then add more coffee and plain milk leaving some room for whipped cream (if using, but why wouldn't you??).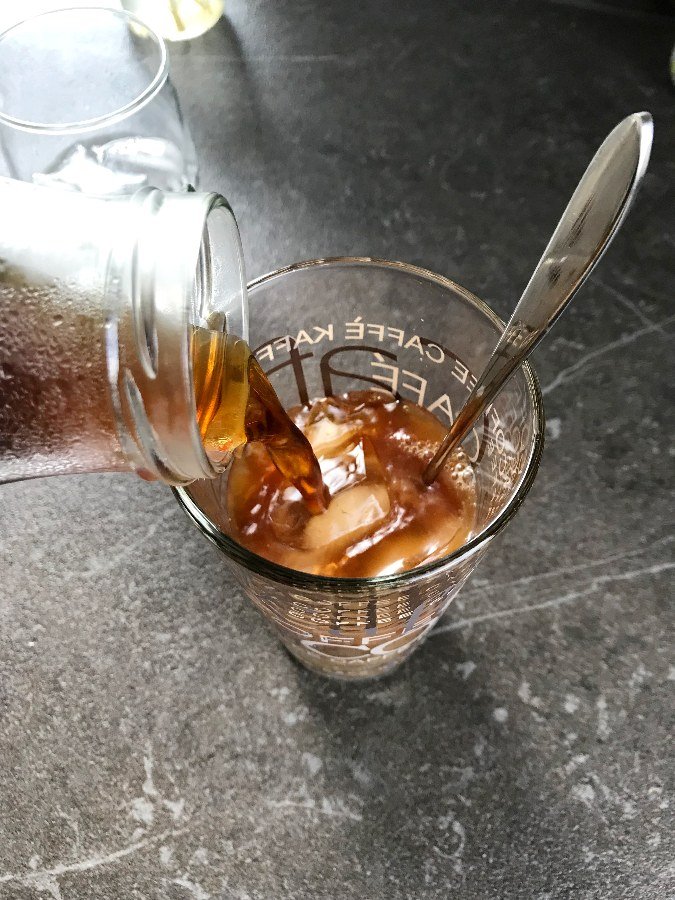 Add whipped cream on the top, sprinkle with chocolate (or caramel or whatever your heart desires). I just used a vegetable peeler and small grater to get some chili dark chocolate on my coffee here.
Enjoy your Addicting Cold Brew Coffee, AKA Dessert in a cup, AKA Irresistible cup of goodness. Anyway…
Here are a couple more ways to enjoy cold brew coffee:
Plain – just add ice cubes and some milk. It has a nice, smooth taste and is seriously addicting. If you're watching your sugar, this is definitely the way to go!
The German way, aka With Vanilla Ice Cream – place some vanilla ice cream in a glass and pour cold brew coffee over it. The amounts don't really matter, just as a guidance know that the more ice cream you add, the sweeter the coffee will be. Mix well together until ice cream is kind of incorporated into the coffee (but not fully). This one is also addicting. Has a creamy, and sweet vanilla flavor. I definitely go for seconds.
What's your favorite way to drink cold brew coffee? Let me know in the comments below.
Other Coffee Recipes
I love coffee anything, really (except coffee yogurt. That one really didn't work out). Here are other great coffee recipes that I really recommend:
Lastly, if you make this addicting cold brew coffee, make sure to leave a comment and/or give this recipe a rating here! I'd love to hear back from you and will do my best to answer and respond to every comment. And of course, don't forget to tag me on Instagram if you make this recipe. I'd love to see the photos of the recipes you have made!
Here is the handy recipe card.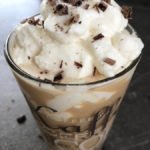 Print Recipe
Addicting Cold Brew Coffee
Easy recipe for cold brew coffee. Perfect for hot summer days!
Ingredients
Cold Brewed Coffee
2.7 oz (76g)

Ground Coffee

5½ cups (1.3 liter)

Cold water
Cup of Coffee
1

cup

Cold brewed Coffee

1

tsp

Sugar

(optional)

1

tsp

Sweetened condensed milk

(optional)

2-3

Ice cubes

3-4

tbsp

Cold milk,

or to taste
Instructions
Cold Brewed Coffee
Combine ground coffee and water in a glass bowl. Mix well, cover, and let sit for 12 hours.

Use a sieve lined with cheese cloth and a measuring cup to filter the coffee.

Store in a container in the fridge.
Cup of Coffee
Add about ¼ of the coffee to a glass.

Add sugar and sweetened condensed milk (or both) and mix well until no granules from the sugar are visible.

Add additional coffee and plain milk leaving a bit of room for whipped cream.

Add whipped cream and garnish with chocolate shavings, sprinkles, caramel (if you have) or whatever else you like.
Notes
-Number of servings might be different depending on the size of glasses you use to prepare the drinks.
Check-out this post to get my take on making whipped cream! So easy and so delicious.