Homemade Exotic Juice with Pineapples and Carrots
This exotic juice just tastes, well, exotic. I seriously thought it had some exotic ingredient in it when I first tried it. The recipe comes from my sister-in-law who is crazy about juicing. She brought this over once and I was hooked! Who knew this can be so easy to make?
Please note that some of the links on this page are affiliate links. View my Privacy Policy for details.
Exotic Juice with Carrots and Pineapple Recipe
Here are the ingredients needed.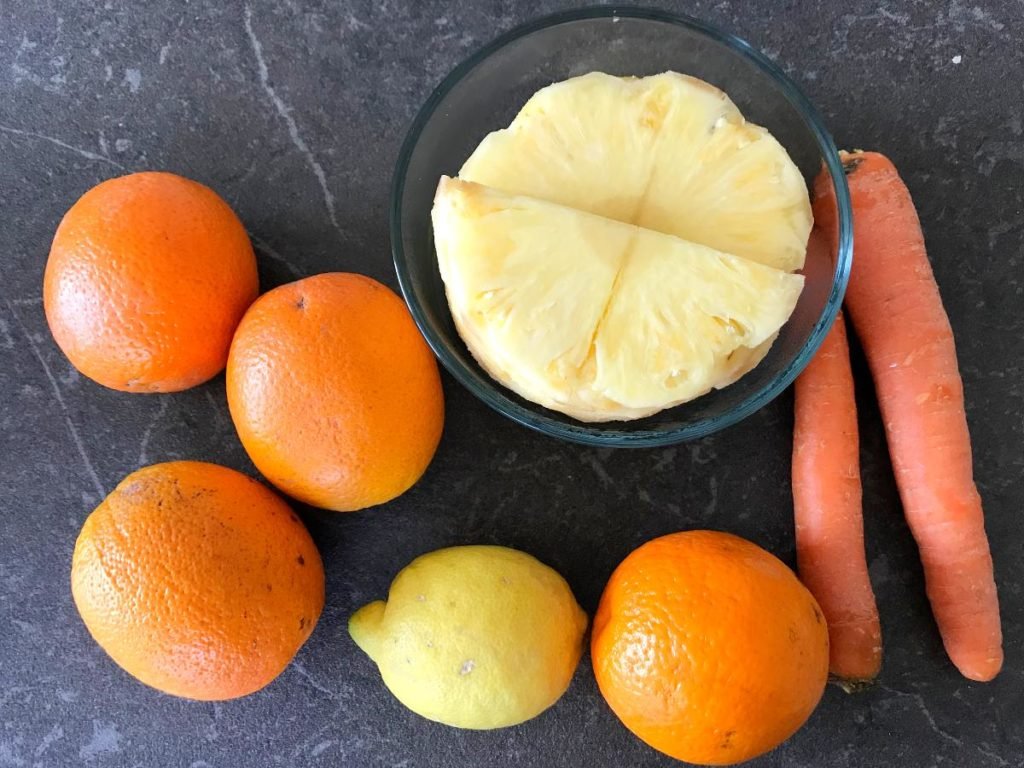 The the list is simple. Oranges, a bit of pineapple, a bit of lemon, and carrots.
Preparing the Carrots and Pineapple Juice
Prepare your ingredients. Peel the oranges, the carrots, and the lemon. Cut the pineapple. I had pineapple left over from a video I did on cutting pineapple, so I am using that up.
Side Note: Depending on the juicer you have, you might need to cut your ingredients into smaller pieces. I don't need to do that for my juicer. See my first detailed juicing post where I talk about the different juicers available and the kind I have.
Juicing
Juice all your ingredients one at a time, using a juicer. My juicer is no longer sold, but the link I have is of a good one from Amazon.
Pour Juice through a Sieve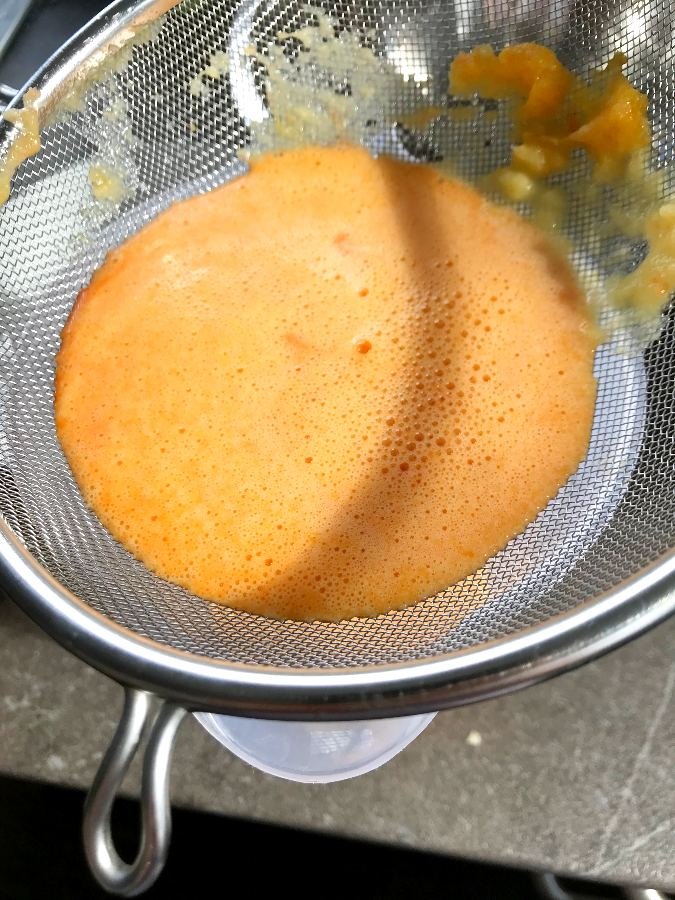 Pour your done juice through a sieve. I normally don't do this last step, but my machine lets a lot of the pineapple pulp through so I poured the juice through a sieve to filter some out. I think this happens because the pineapple pulp is so fine. Again, depending on the juicer you have, you might not need to do that. E.g. Masticating juicers will have way less pulp, but they do need more time to juice and you'll need to cut your fruits into smaller pieces (see linked post above as I talk in detail about the juicers there).
Enjoy your Exotic Pineapple, Orange, Carrot Juice!
If you are new to juicing, check out this 11 Benefits of Juicing Daily article from justjuice.org.
Lastly, if you make this Exotic Carrots and Pineapple Juice, make sure to leave a comment and/or give this recipe a rating here! I'd love to hear back from you and will do my best to answer and respond to every comment. And of course, don't forget to tag me on Instagram if you make this recipe. I'd love to see the photos of the recipes you have made!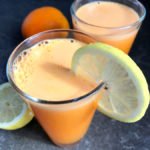 Print Recipe
Exotic Pineapple, Orange, Carrot Juice
Easy juice to make at home and tastes so so good.
Ingredients
4

Oranges

2

Medium carrots

¼

Pineapple

1

Lemon
Instructions
Peel the oranges, carrots, and lemon. Slice the pineapple (Depending on your juicer, cut the ingredients into smaller pieces).

Juice everything using your juicer.

If needed, pour everything through a sieve to get rid of extra pulp.
Notes
-Note: juicing time depends on your juicer. Masticating juicers are much slower as they take time to slowly juice everything. My juicer is pretty fast.
Follow me on Instagram for fun social stuff:)