Creamed Zucchini Soup with Bacon
Zucchini harvest is starting up and this Creamed Zucchini Soup will be on repeat around here. The soup has simple ingredients yet is creamy and tasty thanks to the heavy whipping cream and bacon. Note: do NOT omit the bacon 😀!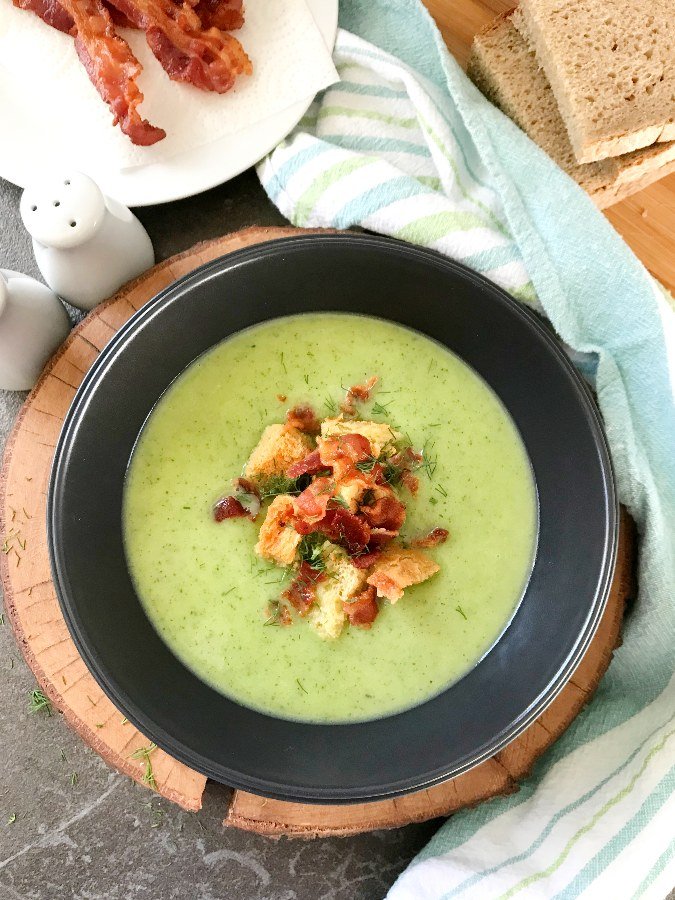 Please note that some of the links on this page are affiliate links. View my Privacy Policy for details.
Creamed Zucchini Soup Ingredients
Zucchini – fresh or frozen can be used
Water – can also be substituted with vegetable or chicken broth for extra flavor
Bacon – really adds to the flavor especially if using water for cooking the soup
Heavy Whipping Cream – gives the necessary creaminess to the soup
Salt & Pepper – for seasoning
Zucchini Soup Recipe
To make the creamed zucchini soup wash zucchini and then chop it into medium pieces. Add to a medium-sized pot (I have this set).
Note: You can also use frozen zucchini if you don't have fresh zucchini on hand. Just substitute the same amount. When I have a big zucchini harvest, I shred the zucchini and freeze it using a cupcake form. Once frozen remove from the form and store in an air tight container or bag. The cooking amount might vary slightly depending on how finely the zucchini is chopped.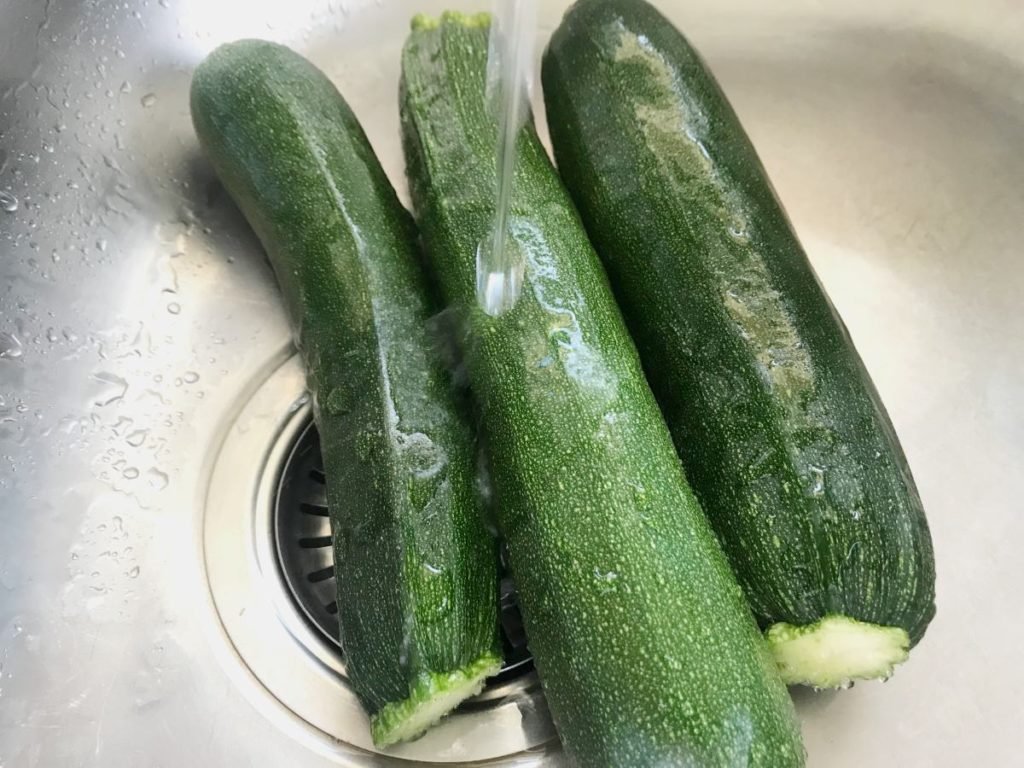 Add water and salt to zucchini. Bring to a slow simmer, cover with lid and cook for 5-6 minutes.
In the meantime, using a medium-sized pan, fry the bacon. If you are looking for instructions for preparing bacon in the oven, here is a good post from the Pioneer Woman (love her site and personality).
Once the zucchini is done, puree or "cream" the pieces using an immersion blender. A normal blender works as well, you would just need to transfer everything into the blender and might need to do it in batches.
Using a measuring cup, add cream to the soup and blend. Than add pepper and blend again.
Crumble the bacon and add to the soup, leaving some for garnish. Or just add bacon individually to each bowl before serving. Croutons can also be added for garnish (optional).
Enjoy!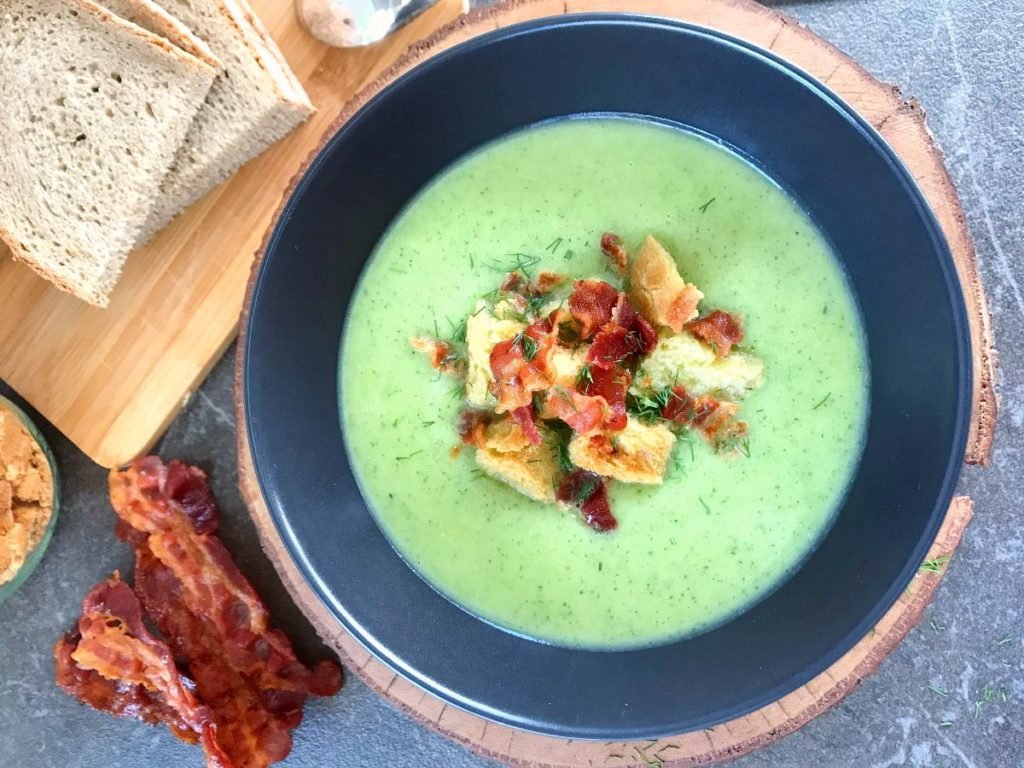 What to Serve with Zucchini Soup
Since this creamed zucchini soup is very light, make these Warm Egg and Cheese Crostini to go with it. Seriously! Both taste so good and work so well with each other.
Or make this Panini Sandwich with Ham and Tomatoes. The crispiness of the sandwich works so well with this soup. You can even dip it in.
Finally, if you make this Creamed Zucchini Soup, make sure to leave a comment and/or give this recipe a rating here! I'd love to hear back from you and will do my best to answer and respond to every comment. And of course, don't forget to tag me on Instagram if you make this recipe. I'd love to see the photos of the recipes you have made!
Print Recipe
Creamed Zucchini Soup
Easy zucchini soup with heavy whipping cream and freshly fried bacon. Light and satisfying.
Ingredients
1lb 5oz (600g)

Fresh zucchini

(3 small zucchinis)

4.4 oz (125g)

Bacon

2 ½

cups

Water

¼

cup

Heavy whipping cream

3/4

tsp

Salt

(or to taste)

⅛

tsp

Pepper
Instructions
Wash zucchini, chop and add to a medium sized pot.

Add 2½ cups water, bring to boil and cook for 8-10 minutes until the zucchini is very soft.

Using an immersion blender, blend the zucchini until the desired consistency is achieved (very creamy no individual pieces of zucchini appear).

Add cream, black pepper, and salt and blend everything together until done.

Serve with bacon (not optional:)) and croutons (optional).
Notes
Frozen zucchini can also be used in this recipe. Substitute with the same amount frozen. The cook time will increase a bit since the zucchini is frozen.