Tomato and Mozzarella Salad Plate with Basil (VIDEO)
This Tomato and Mozzarella plate is a great addition to any dinner. The tomatoes are salted and placed in between slices of soft mozzarella cheese. The whole is then sprinkled with Olive oil and fresh Basil leaves. Best to make this in the summer when you have fresh tomatoes and Basil from the garden, but it can be done any time of the year.
Please note that some of the links on this page are affiliate links. I only link to products I trust or would buy myself. Thank you for your support.
Tomato and Mozzarella Plate Recip
Here is a quick video on the preparation of the salad plate. If you prefer to read, just scroll down for step-by-step instructions.
To start off, cut the mozzarella cheese into slices.
Cut the tomatoes into thin slices. It is best if tomatoes are about the size of the cheese, but that's not always possible, so use what you have.
Salt the tomato slices using herbed salt. I first started using herbed salt here in Germany and it is just awesome in this dish. Basically, herbed salt is salt with different herbs and/or vegetables added and it. Here is an organic one from Amazon. If you don't have herbed salt, regular salt will work just as fine. You can also sprinkle some Oregano on the tomatoes along with the salt.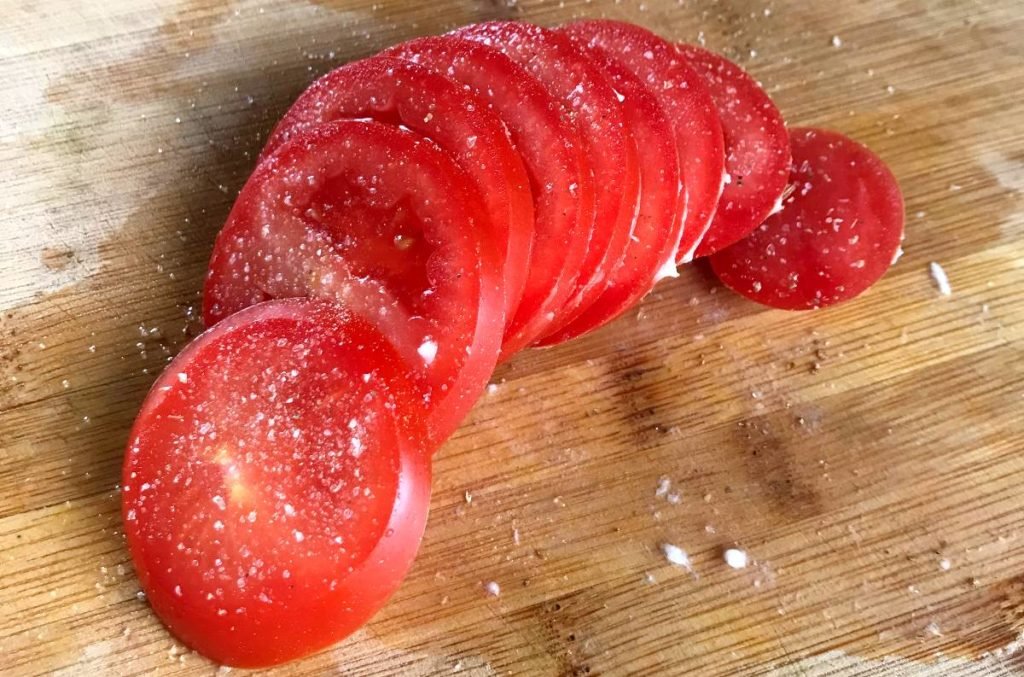 Place a tomato slice after each mozzarella slice and arrange carefully on a plate.
Toss fresh basil leaves on the top and sprinkle a bit of extra virgin olive oil all around and your plate is done!
Serve this Tomato and Mozzarella Plate with your favorite pasta dish and a fresh baguette!
My only question left is, is this a salad? An appetizer? a side dish? 😅 I'll file it under all three of these categories, but what do you think?
Tomato and Mozzarella Plate with Basil
Super Easy Tomato and Mozzarella Plate or Salad. Awesome flavors from the olive oil and herbed salt.
Ingredients
1

Mozzarella cheese

1

Medium-large tomato

(or 2 small)

Herbed salt

(or regular salt)

Olive Oil

Handful Basil leaves
Instructions
Slice Tomatoes and place a slice in between each Mozzarella slice.

Salt the tomatoes using herbed salt.

Sprinkle the Basil leaves all around on the plate.

Sprinkle Olive oil on the top of everything.
Check out my other salad dishes here.
Sign up for my newsletter to be the first notified when I post new recipes. Or follow me on Instagram, Twitter, Pinterest, or Locals if that's more your thing:)