Copycat Starbucks Frappuccino Bottle Coffee (VIDEO)
This Starbucks Frappuccino Bottle Coffee is a copycat of the original Starbucks drink, the bottled version.
If you've been following me for any amount of time, you probably know how much I love coffee. (This Cold Brew Coffee recipe is a dream and check out my post on this new trend I recently wrote about – Iced Coffee Tasting).
Anyway, this recipe is my take on the Starbucks Frappuccino Bottle Coffee (the vanilla version).
Here, where I live in Germany, we didn't have a Starbucks coffee shop for a long time. But the bottled version was always available at the grocery store. I finally decided to make my own version. This gives you a great version of the drink without all the additives and preservatives.
And seriously? Drinking the Starbucks version, I didn't understand what the fuss was about. But this stuff? It was hard to stop drinking it. Good, that I made double the amount!
Starbucks Frappuccino Bottle Coffee VIDEO
Here is a quick video for preparing the Frappuccino. Red on for written instructions.
Some of the links on this page might be affiliate links. View my Privacy Policy for details.
Ingredients for Starbucks Frappuccino Bottle Coffee
Espresso – or really, really strong coffee
Vanilla extract – Choose a good quality extract here on Amazon. Or make your own vanilla extract.
Brown sugar – granulated
Milk & Cream – yes, you need both. The cream gives the Frappuccino the nice thick texture. Otherwise, it would be like normal coffee with milk.
How to Prepare the Frappuccino
Make your espresso, or really strong coffee. Let me emphasize that it should be strong. With this recipe, only half of the liquid is coffee, so if it's not strong, you will not have much of a coffee flavor.
How to Make Strong Coffee
You can still make strong coffee even if you don't have a special (espresso) machine for it. If using something simple like a pour over coffee dripper, run the coffee twice through the grounds. Make sure you have finely ground coffee.
I used 4 teaspoons ground coffee here and poured 1/2 cup water through it twice. Worked great! Sometimes simple is better, or just as good:)
Add sugar to the coffee and mix well until the sugar is dissolved. Let the coffee chill in the fridge.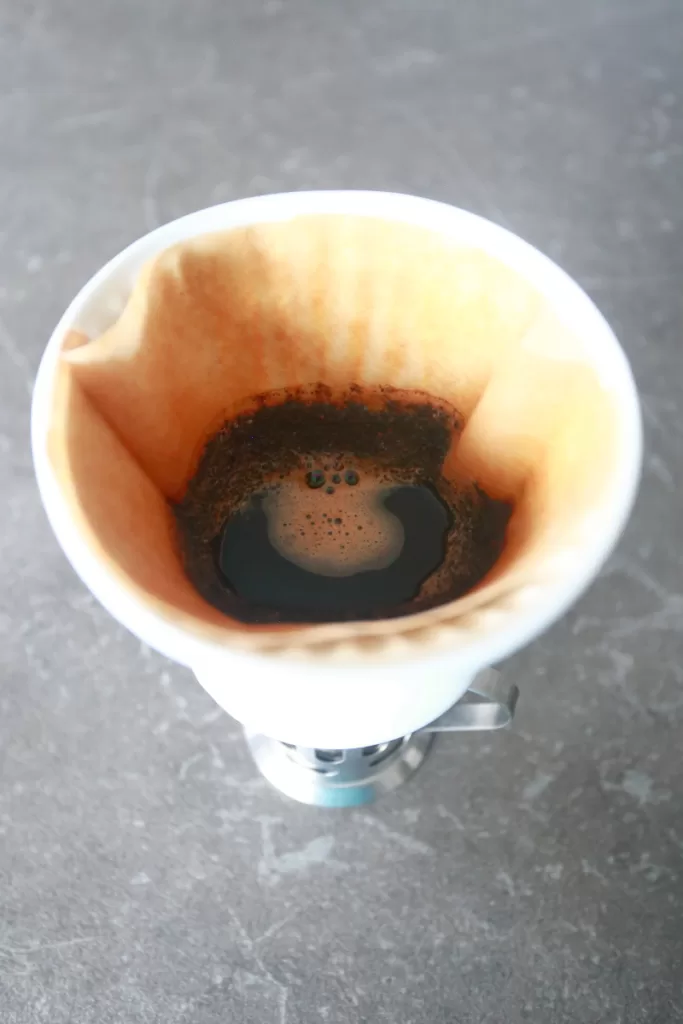 Once the coffee is chilled, add the vanilla, milk, and cream and mix everything well.
Pour everything into a mason jar and just shake it. It's a very fast way to mix everything together.
This gives you a nice, thick, creamy, and frothy drink. You can even see the froth in the pictures.
I love this Cold Drink Mason Jar Mug with a handle that I used in the pictures. It's cute and great for throwing drinks together. (I think the lids with the straws are purchased separately).
Note, the jar fits two servings (or two cups).
Serve.
Lastly, if you make this Copycat Starbucks Frappuccino Bottle Coffee, make sure to leave a comment and/or give this recipe a rating here! I'd love to hear back from you and will do my best to answer and respond to every comment. And of course, don't forget to tag me on Instagram if you make this recipe. I'd love to see the photos of the recipes you have made!
Print Recipe
Copycat Starbucks Frappuccino Bottle Coffee
Ingredients
½

cup

Very strong coffee

2

tsp

Brown granulated sugar

1

tsp

Vanilla extract

¼

cup

Cold Milk

¼

cup

Cold Cream
Instructions
Brew some very strong coffee. To ½ cup coffee add the brown sugar and mix well. Chill in the fridge at least 30 minutes (or more, depending on how cold you want your coffee).

Add vanilla extract, cold milk, and cold cream to the coffee. Mix well.