Cured Salmon Lox (super easy!)
Learn how to cure salmon at home to make cured salmon lox (or gravlax). This normally expensive fish is so easy to make at home and you can make as much of it as you want without breaking the budget! This recipe comes from my mom and we've been making it for years even without knowing what lox was (ha).
I've cured salmon many times over the years and with this recipe it turns out great every time. The one exception was where I accidentally miscalculated the salt needed (the joys of living abroad and re-calculating things from pounds into kilos, etc.) Or maybe I left i too long in the salt mixture. Anyway, it was a while back and it didn't happen since (so pay attention and don't make these mistakes 😄).
Please note that some of the links on this page might be affiliate links. View my Privacy Policy for details. Thank you for your support.
What is Cured Salmon?
Cured salmon is salmon that has laid in a mixture of salt and sugar for many hours and has acquired the taste of said salt mixture. Different herbs can also be added to the mixture to change up the flavor a bit.
Is Cured Salmon Cooked?
No, cured salmon is not cooked. You could think of it as being in the first stages of being preserved (They did used to preserve fish and meat with salt in the past, right?). But it is not fully preserved so it should be used up after a few days.
How long does Salmon take to cure?
I cure salmon for 24 hours at most. This is considered to be a light cure (36 hours would give you a medium cure and 48 would be a hard cure). With this recipe I don't recommend curing the salmon longer as it would get too salty.
Cured Salmon Recipe (Step-by-Step)
Take your salmon fillet and cut off the amount you want to cure. Some people take the salmon weight and calculate the amount of salt to use for curing. I don't like to do this because each piece of salmon weighs a different amount, so you would have to recalculate the amounts every single time. Instead, I cut the amount of salmon I need and cure only that amount. Also, here in Germany, often times fresh salmon is sold pre-packaged in 300g or 400g amounts. So it's way easier to have the same amounts each time instead of re-calculating constantly.
If I'm cutting the salmon myself, I make sure to use a kitchen scale and weigh the piece I will cure. This is important so that you don't over-salt or under-salt the fish.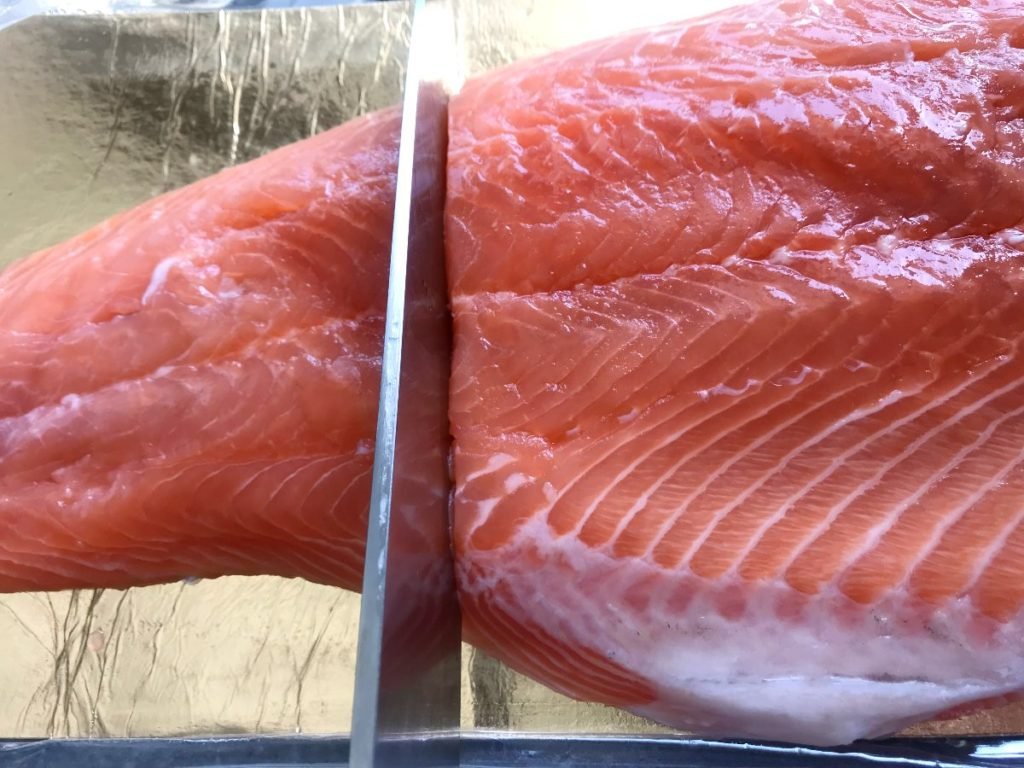 Wash your cut piece of salmon and dry using paper towels. Lay it into a glass casserole dish.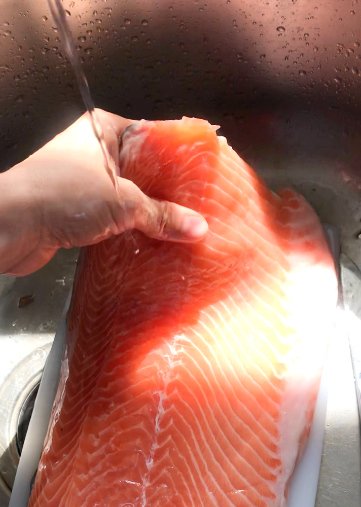 Curing Salmon Salt
Curing salmon salt is basically a combination of salt and sugar and any herbs you might want to use. My standard way is just to use salt and pepper. Nothing else is needed. But you can also add cracked peppercorns, dill, thyme, rinds of citrus fruits, and even alcohol like Vodka. So there is a lot of room to play. This is just my basic recipe. After you've made it a few times, feel free to play with the flavors.
Easy curing salmon salt formula:
My formula: for every 1 pound of salmon, use 3 tablespoons salt and 1 tablespoon sugar.
This is very easy to measure out and also to re-calculate if you want to make more. Here, I am making 1 1/2 pounds of salmon so I am using 4 1/2 tablespoons salt and 1 1/2 tablespoons sugar. I didn't even need a calculator to get these amounts. I am so proud of myself 😇.
Preparing cured salmon
The rest is very easy. Just mix the salt and sugar in a small prep bowl and sprinkle on the salmon on both sides.
If using any herbs (optional), add them at this point. Cover the salmon with clear wrap and make sure to note the time you salted the salmon (I like to use a permanent marker and write directly on the clear wrap). Refrigerate for 24 hours. Take the salmon out about halfway through and flip it to the other side so that it cures more evenly.
Tip: Figure out the best time to start curing so that you're not (for example) getting up in the middle of the night to flip the salmon.
After 24 hours, take out the cured salmon, or lox, and wash off the salt with boiled (but cooled off water). You can also use normal cold water, but this is the way my mom taught me to do it. Boiled water stays fresh way longer than normal water and we want to keep this lox as fresh as long as possible. That's why we use boiled water to wash off the salt.
Once the lox is dried it can be sliced thinly and served.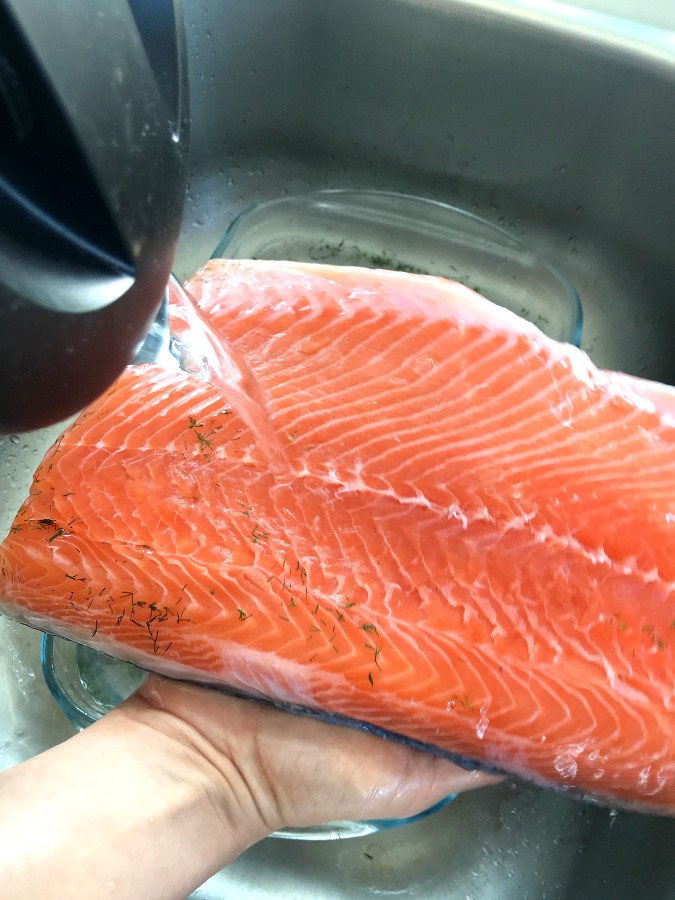 What to do with Cured Salmon?
So what can you do with cured salmon, apart from just eating it as it is (totally an option) 😅? Here are some ideas:
Make sandwiches or bagel-sandwiches (I love using butter or cream cheese on bread and topping it with lox. So yummy!)
Make sushi with the cured salmon
Smoke the salmon (haven't ever done this, but this is an idea). Here is a post from Traeger Kitchen on how to do it on the grill.
Check out the 10 Things to do with Smoked Salmon article from BBC Good Food for some additional recipe ideas.
I hope you try making this Cured Salmon Lox recipe. It is so easy to make and is so delicious. I made a bigger portion this time because it just disappears so fast around here and the little packets sold at the store are so expensive!
If you make this Cured Salmon Lox, make sure to leave a comment and/or give this recipe a rating here! I'd love to hear back from you and will do my best to answer and respond to every comment. And of course, don't forget to tag me on Instagram if you make this recipe. I'd love to see the photos of the recipes you have made!
Print Recipe
Cured Salmon Lox (super easy!)
Easiest way to make lox at home. You just need some salmon, salt, pepper, and an abundance of time and patience.
Cost:
$10-$35 (depending on type of salmon)
Ingredients
1

lb

Salmon fillet

3

tbsp

Salt

1

tbsp

Sugar

Herbs/spices: dill, cracked pepper, etc.

(optional)
Instructions
Cut salmon to needed amount (if cutting yourself) or ask them to cut it for you at the fish counter.

Wash the salmon and dry using paper towels. Lay it into a casserole dish.

Combine salt and sugar and mix well together.

Sprinkle salt and sugar mixture over salmon on all sides. Add herbs (if using).

Cover salmon with clear wrap and refrigerate for 24 hours, flipping in between.

Take out cured salmon, or lox, wash off with cooled boiled water, dry using paper towels and slice thinly.

Serve on a sandwich, in sushi, or in other recipes.