Two-Ingredient Tomato Salad Recipe
This two-ingredient Tomato Salad Recipe is awesome and so easy to put together and is a great way to use up ripe summer tomatoes. The sweet, juicy tomatoes are cut and placed in individual bowls. Each bowl is topped with a tablespoon of sour cream and sprinkled with a bit of salt and that's it!
This recipe comes from my second mama (MIL) and at our house this simple tomato salad gets requested just as soon as garden tomatoes start coming in (see note below for details on which tomatoes to use). It's so easy, I have no idea why we never did this in our family! I guess sometimes you still have to see someone do simple things before you start to do them yourself.
Tomato Salad Recipe
Best Tomato for Salad
The best tomatoes to use in this salad (and the only ones I recommend) are home-grown garden tomatoes. Tomatoes are basically the only ingredient here. So if they don't taste good, your whole salad goes down the drain. Farmer's market tomatoes are also a good alternative if you don't grow your own.
I grow several varieties of tomatoes in my garden like cherry, Roma, and some large, beefy tomatoes (I am not sure of the exact variety I have). The best tomatoes for this salad are the large, beefy tomatoes. Roma are a good second choice and the cherry tomatoes just don't work as well in this one.
SIDE NOTE: Check out this page from Harvest to Table if you're interested in learning more about the large tomatoes you can grow: Best Large Tomatoes for the Home Garden.
Wash your tomatoes, cut them into bite-sized pieces and place them into individual salad bowls. I usually just hold the tomato in my hands and cut it in the air without using a board. So this salad saves you washing a cutting board. You're welcome!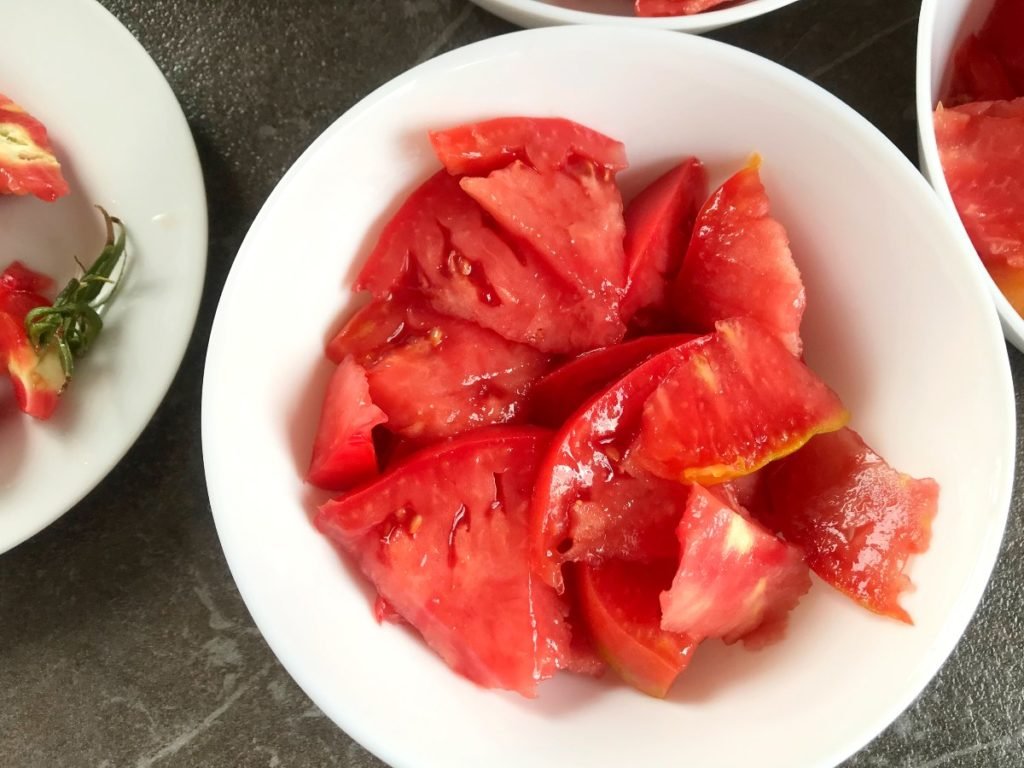 Dressing
Add a generous tablespoon of sour cream to the tomatoes. Sprinkle with salt just before serving (or just place a salt shaker on the table and each person can salt their own salad).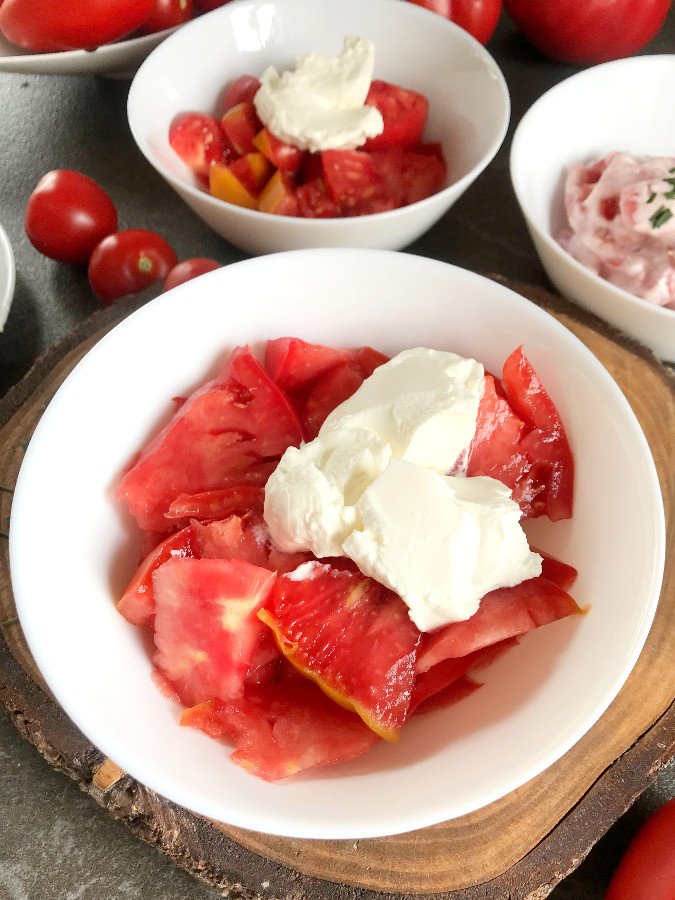 Mix well (each person can mix their own as well). Serve.
Recipe card:
Print Recipe
Two-Ingredient Tomato Salad Recipe
Juicy garden tomatoes come together with sour cream in this easy two-ingredient salad.
Ingredients
2-3

Big tomatoes

(about 2 lbs)

4

tbsp

Sour Cream

Salt,

to taste
Instructions
Wash and cut tomatoes into bite-sized pieces. Place into individual bowls.

Add a generous tablespoon of sour cream to each bowl and sprinkle with salt (to taste).
If you're looking for ideas to use your summer tomatoes check out my other salads, such as the Tomato and Mozzarella Salad Plate with Basil or the Arugula Salad with Tomatoes, Avocado and Feta.