Korean Spiced Carrot Salad (Корейская Морковка)
This Spiced Carrot Salad is just a mixture of julienned (cut into thin strips) carrots, garlic, spices, and a bit of vinegar and oil. It's a traditional Russian salad basically called "Korean Carrots," that I've known since childhood. I'm not sure of the origins of the name, or if Koreans have a similar salad, but I think it might come from the spiciness of the salad. It takes a bit of time to put together because you need to peel and julienne the carrots. But once that's done, everything else comes together easily. I've tasted many versions of this salad, but mom's recipe always comes out the best.
Please note that some of the links on this page are affiliate links. View my Privacy Policy for details.
Equipment needed
Mandoline Slicer
I highly recommend using a Mandoline (or Julienne) Slicer for this recipe as it makes things so much easier. I couldn't find the one I have, but there are many available on Amazon (Here, here and here). Or check your local department store for one.
You can also julienne the carrots by hand with a knife, if you have the time and patience for it 🙂. Here is a good video from the BBC showing exactly how you can do that: Learning to chop: the 'julienne' technique.
Grater
For grating the garlic, you can either use a boxed grater, a garlic press or a small hand-held grater (use whatever you have). You can also mince the garlic with a knife, if you like.
Bowl
A medium to large bowl works best here as it makes things easier when you mix the long-ish carrots.
Korean Spiced Carrot Salad Recipe
Preparing carrots and garlic
Peel and rinse the carrots. Peel the garlic cloves. Then slice the carrots using one of the methods mentioned above. Place into a bowl (if using a Mandoline Slicer, slice directly into a bowl). And that's basically all the prep work:) You can also measure out the spices, but I usually do that as I put everything together.
Combining it all together
Sprinkle the sliced carrots with salt and mix well together.
Shred/mince the garlic and place on the top of the carrots. Do NOT mix! Set aside.
Heat the oil to smoking point (You will basically see the smoke rising up from the oil). Then pour over the carrots making sure to pour over the garlic specifically.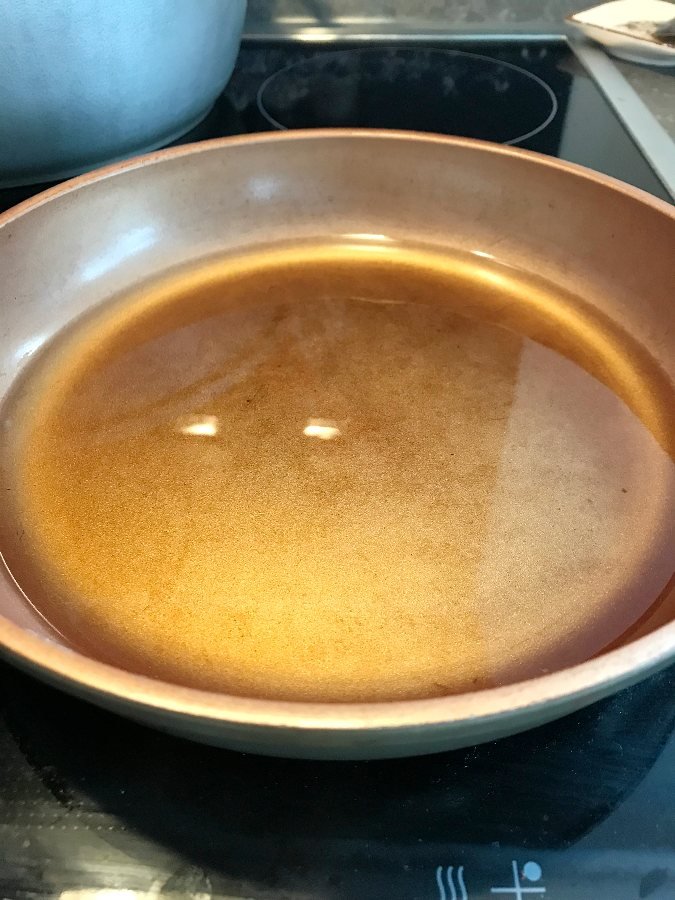 Add the coriander seed powder, cayenne pepper, and vinegar. Mix well.
A note about the vinegar. Check the percentage of acidity in your vinegar. In the US, cooking vinegar mostly has a 5% acidity. In Germany, it's 20%. This means that you need to adjust the amount of vinegar in the recipe depending on the amount. (Trust me. I learned this the hard way. lol). So, for this recipe, if you have the 5% vinegar, use 4 tablespoons of it. If you have the 20% vinegar, use 1 tablespoon of it.
Refrigerate for 1-2 days. Note, this spiced carrot salad becomes better with time. At home, mom usually made a big bowl and we ate it for several days after that.
This salad tastes great served along dishes like my Kazakh Beef Plov, or I also just love it with a piece of bread. Check out this Plov recipe from Alyona's Cooking – How to make Plov in Kazan. This is the real deal if you can make it outside:) Unfortunately, I don't have a set up for cooking outside, so my recipe above is the best one I tasted so far for cooking indoors.
Print Recipe
Korean Spiced Carrot Salad
Ingredients
2lb (900g)

Carrots

2

Garlic cloves

2.5 oz (70g)

Corn oil

1 ½

tsp

Salt, or to taste

1/4

tsp

Sugar (optional)

1/8

tsp

Coriander seed powder

1/8

tbsp

Cayenne Pepper (add more for more spiciness)

4

tbsp

White vinegar (5% acidity),

(1 tbsp if using 20%)
Instructions
Peel, rinse and julienne the carrots. Peel the garlic cloves.

Sprinkle carrots with salt and sugar (if using). Mix.

Mince garlic then sprinkle it over carrots. Do not mix. Set aside.

Heat the oil to smoking point and pour over the carrots.

Add coriander seed powder, cayenne pepper, and vinegar. Mix well. Refrigerate for 1-2 days.
Check out my other salad posts here.