These pancakes are truly the best I have ever tried. They are so moist and soft. All thanks to the buttermilk and the additional slices of butter in between the individual pancakes. We've been using the recipe probably for well over a decade in our family. I hope you give these a try. Be careful! You might just end up always using this recipe (😁)
Please note that some of the links on this page are affiliate links. I only link to products I trust or would buy myself. Thank you for your support.
Combine dry ingredients
To start off, measure out and combine all your dry ingredients. Dump them all through a sieve so that you have no lumps in the batter later. Set aside.
Combine wet ingredients
To combine the wet ingredients, first beat the eggs with a fork (using a hand mixer is fine, but I save myself some cleanup work by using a fork. We're all about efficiency here😀).
Once the eggs look light and bubbly, add the buttermilk and beat further until everything is mixed well together. Tip: Make sure that the buttermilk and eggs are room temperature, otherwise, when you add-in the melted butter (next step), it will turn solid again.
Add the melted butter to the batter and mix further until everything is well combined.
Make batter
To finish making the batter, add the liquid ingredients to the dry ingredients. Mix until the dry ingredients are thoroughly mixed, but try not to over-mix.
Frying the pancakes
Preheat a skillet or a griddle (My skillets are similar to this). Add a bit of butter to grease it (you only need to do this before frying the first pancakes and if your skillet is not non-stick).
Measure 1/4 cup portions and pour them unto the skillet or griddle allowing room for spreading. Fry at medium heat. Fry the pancakes until the tops are full of bubbles and the edges look a bit dry.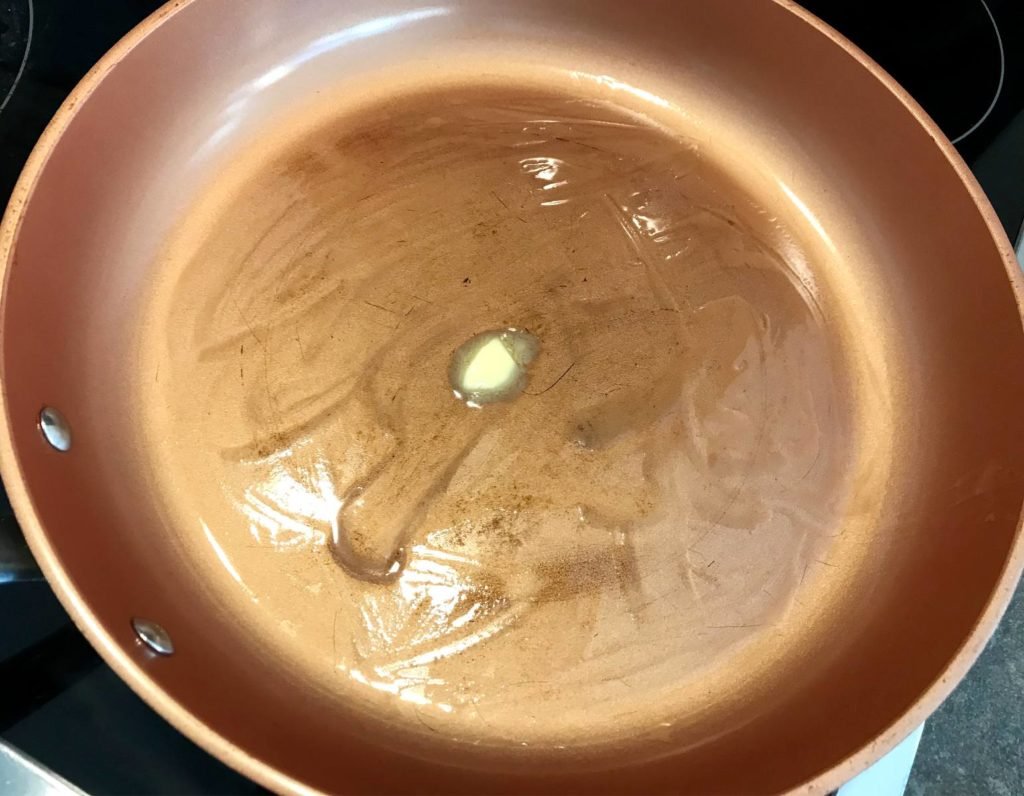 Check that the bottoms are also golden brown. Then flip and fry the other side.
Remove from skillet and put a slice of butter on each pancake before placing the next one on it. This is definitely optional of you are trying to reduce your fat intake, but oh the taste! It gives the pancakes that moist consistency and the flavor is enhanced even more.
Serve these buttermilk pancakes with jam, honey, sour cream, maple syrup, Nutella or whatever else you like on your pancakes. My favorite combination is a layer of sour cream spread on the pancake and a layer of jam on the top of that (any jam works, but strawberry or black currant taste best).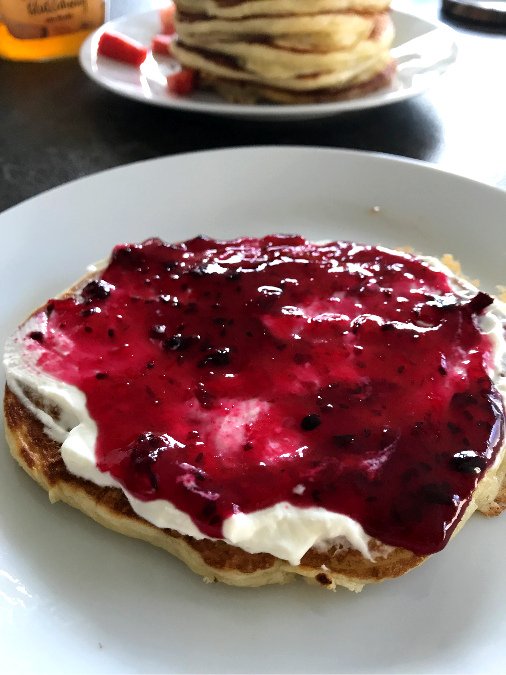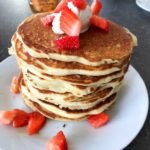 Print Recipe
Buttermilk Pancakes
Ingredients
Dry ingredients
1 ½

cups

Flour

2 tbsp (27g)

Sugar

½

tsp

Salt

¾

tsp

Baking powder

1

tsp

Baking soda
Wet ingredients
2

Eggs

2

cups

Buttermilk/Kefir

2oz (56g)

Butter, melted
Instructions
Using a sieve, sift the dry ingredients together in a bowl.

In a separate bowl, beat the eggs and combine the rest of the wet ingredients until the batter is smooth.

Add the wet ingredients to the dry ingredients and mix until the batter is well mixed. Don't overmix.

Preheat a skillet or a griddle and add a bit of butter (optional).

Measure ¼ cup portions of the batter and pour unto skillet or griddle. Fry until bubbles appear and the edges seem to become dry. Turn and fry the other side.

Remove from skillet and put a slice of butter on each pancake before placing the next one on the top.
Notes
Buttermilk and eggs should be room temperature.
Want other ideas for breakfast or brunch? Check out my other recipes in this category here.