Bantiki – Farfalle Pasta with Strawberries and Cream
Slightly tangy, slightly sweet and very creamy. This Farfalle pasta dish is a bite of summer in your bowl. The recipe comes from my in-laws and is made every year during strawberry season (after picking strawberries in the field). The combination might seem a bit strange at first, but it's a lot like those vareniki (pierogi) that are made with fruit. This is kind of like a lazy version of those.
Ingredients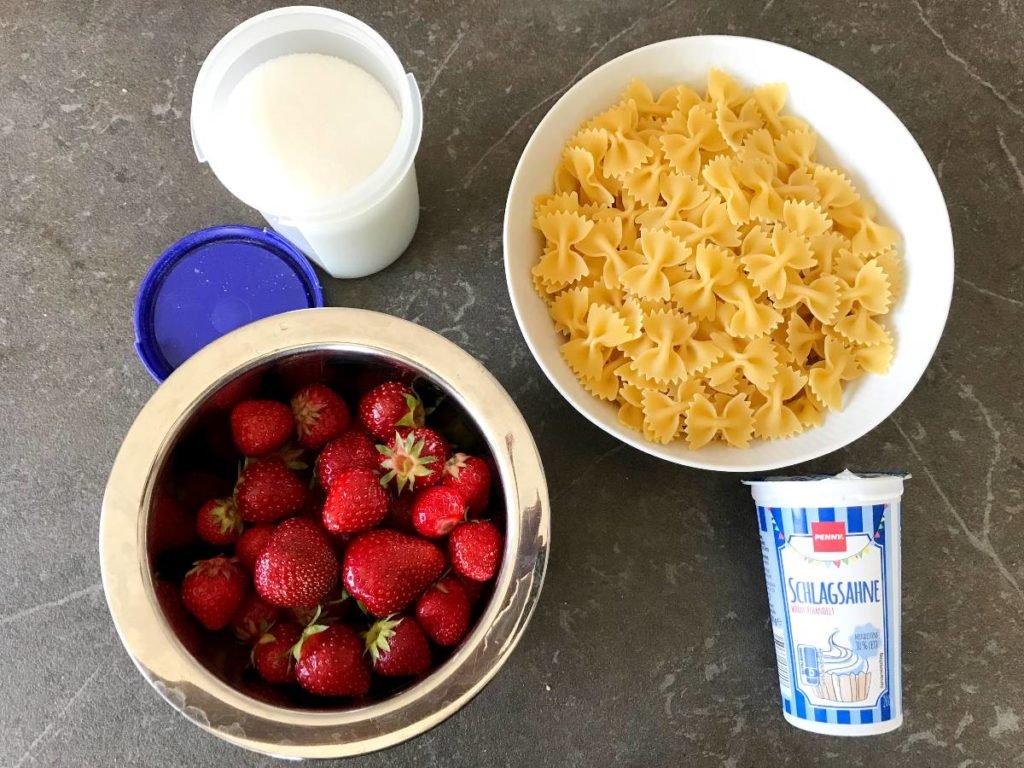 Strawberries – the most important ingredient here. Freshly-picked and from the field are the best. I haven't tried this with store-bought strawberries outside of the season, but I imagine the taste might be a bit different as the strawberries taste differently.
Farfalle – Bantiki (Russian), or bow-ties, as the in-laws call them, are the only pasta to use for this dish. Otherwise, it's just not the same. Well, according to them, that is:) I do recommend using the bow-tie pasta for this, but if you have to use something else, use a thinner type pasta. Penne pasta, for example, might be too thick and you might end up having too much of the "pasta" taste and to little of the "strawberry" taste.
Cream – just normal heavy whipping cream.
Sugar – a bit of white sugar to sweeten things up. Omit if your strawberries are sweet enough.
Preparation
In a medium pot, bring water to a boil, salt it, and cook pasta until it is done to your liking.
In the meantime, wash strawberries and remove the green ends.
Toss the strawberries into a small pot (I used the smallest pot I have from this set). I recommend using a pot instead of a bowl because the bottom of a pot is not rounded as it usually is with a normal bowl. This makes it easier to mash the strawberries.
Mash the strawberries with a potato masher.
Add sugar to the mashed strawberries and mix until well combined. Let stand a couple of minutes until the sugar is fully dissolved.
Add the cream to the strawberry mush and mix well.
Serving Farfalle Pasta with Strawberries
Add a bit of the cooked pasta to a bowl and ladle the strawberry sauce over the pasta. If preparing in advance, only add the sauce to the pasta right before serving.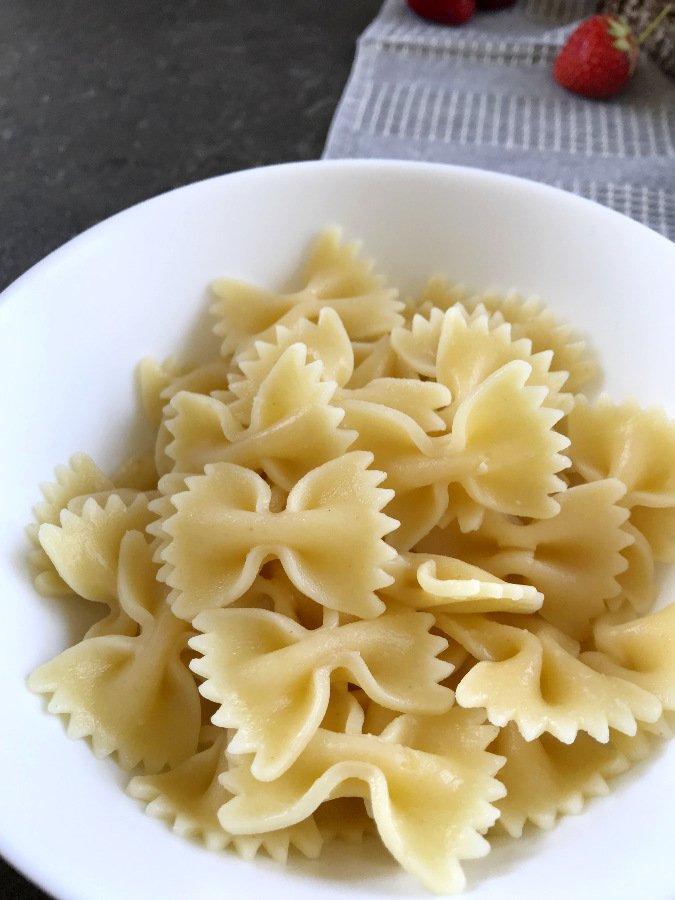 Serve:) Enjoy the taste of summer in your bowl!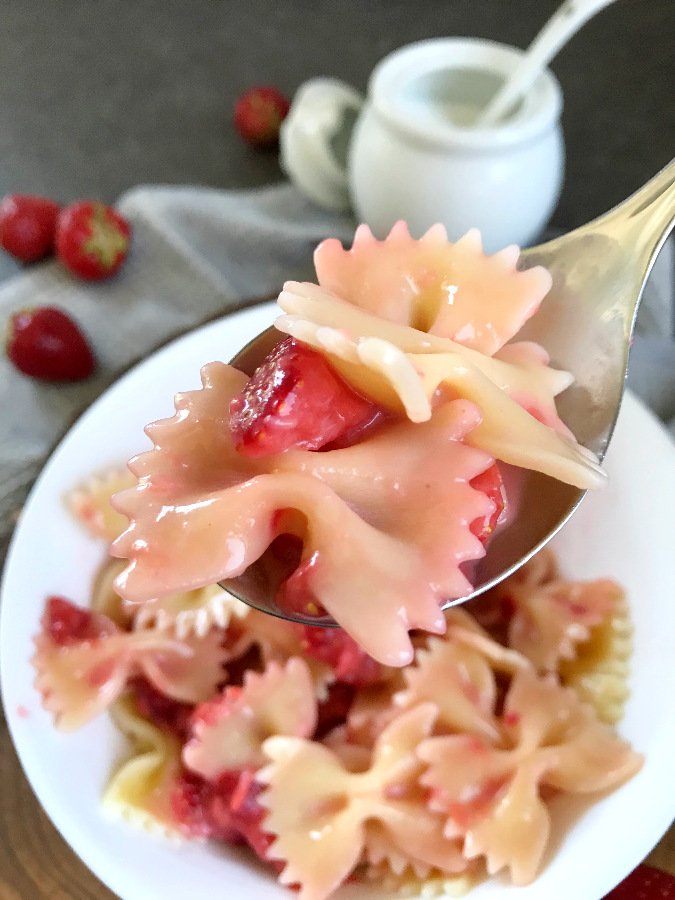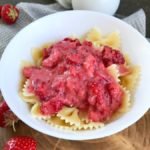 Print Recipe
Farfalle with Strawberries and Cream
Ingredients
10.6oz (300g)

Farfalle (bow tie) pasta

1.1lb (500g)

Strawberries

2

tbsp

Sugar

(Or to taste)

¼

cup

Heavy whipping cream
Instructions
Cook pasta in salt water according to package instructions (12-14 minutes).

As the pasta is cooking, wash the strawberries and remove the green ends. Add to a small pot.

Using a potato masher, mush the strawberries to your desired consistency (we like it when there are bigger pieces of strawberries still present).

Add 2 tablespoons of sugar and mix well.

Add the cream to the strawberries and mix well. Set aside.

Once the pasta is ready, drain it.

To serve, put pasta in a bowl. Add a desired amount of strawberry sauce to the pasta. Serve right away.
Notes
-Adjust sugar as needed. If strawberries are very sweet, less sugar might be needed.
-Pasta should be served right away. If preparing in advance, keep the pasta and sauce separate. Combine right before serving.