Turkish Grilled Eggplant Spread
This grilled eggplant spread has become one of our staple dishes that we prepare when we grill. The eggplant is grilled until it's fully soft and is then combined with chopped tomatoes and onions. Some oil and salt and pepper bring it to perfection.
Some of the links on this page might be affiliate links. View my Privacy Policy for details
The great part about living in Germany, is that I get to meet people groups that I haven't come in contact with before (at least in my experience). This Turkish spread recipe comes from my husband's former colleague who is Turkish (duh!). We first tried it at his house and just came to love it. Traditionally, it is eaten with pita bread, but it also tastes great as a dip for chips or served as a side dish with grilled meat. We even love it the next day and enjoy taking the left overs to work for lunch.
Grilled Eggplant Spread Recipe
Ingredients needed
This is a simple recipe requiring only a few ingredients. Main ingredient of course is eggplant. Then you need a tomato, an onion, olive oil and salt and pepper. That's it.
Turkish Spread Preparation
To start off, we need to grill the eggplant. So, preheat the grill and then put a bit of olive oil on the eggplant so that it doesn't stick to the grill. Grill the eggplant 30-45 minutes, depending on how hot your grill is. The eggplant should be charred from the outside and very soft on the inside. It also basically falls into itself.
While the eggplant is grilling, chop the tomatoes and onions. Combine in a bowl and set aside.
Once the eggplant is done (charred from the outside and soft inside), remove from the grill onto a cutting board and let it cool a bit. Or use kitchen tongs (I have ones exactly like these, just bought in Germany and maybe a different brand name) to hold the eggplant while you cut it. Cut the eggplant lengthwise and take out the innards using a table spoon. The insides should be totally soft. If you notice that they are not soft when cutting, throw the eggplant back on the grill for a bit longer.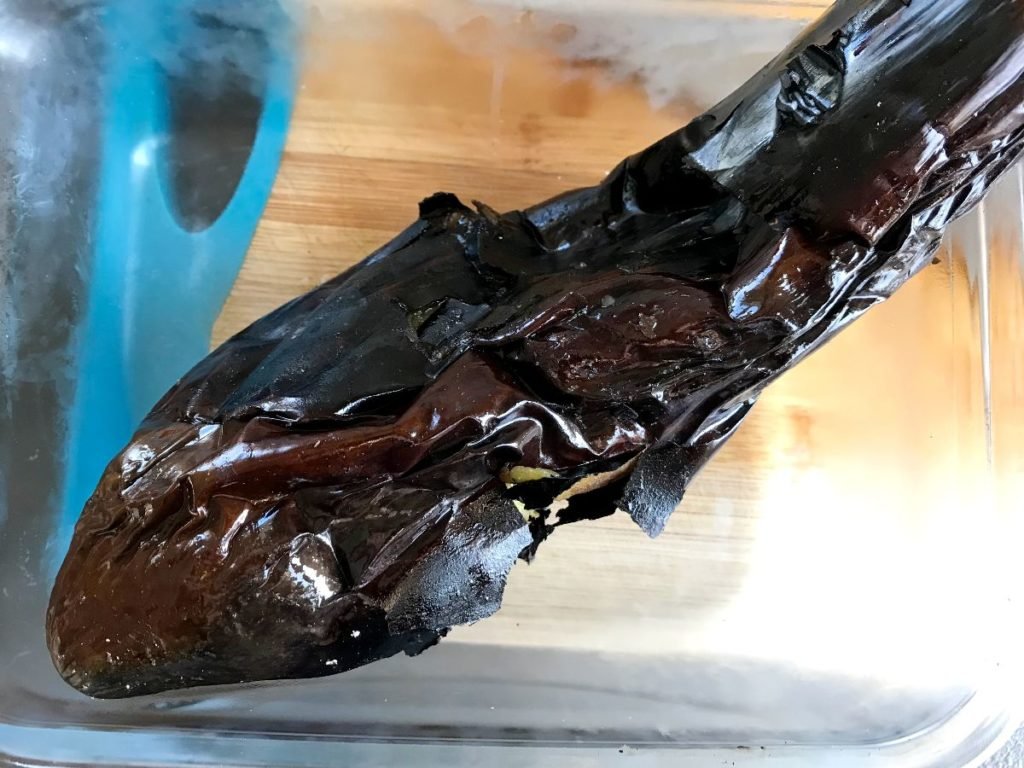 Add the eggplant to the chopped tomatoes and onion. Use a knife to "cut" the eggplant a bit if the pieces are too long (you can also do this on the cutting board). Add the olive oil and salt and pepper to the mixture. Mix well.
How to Serve Eggplant Spread
Serve on bread as a spread, or with grilled meat as a salad or side dish. You can also use it as a dip for pita bread or tortilla chips. (Side note: visit The Mediterranean Dish's Easy Homemade Pita Bread post if you're looking for a good homemade pita bread recipe. I've made it several times and it's just great!)
I hope you try making this spread the next time you grill. Seriously, the taste is amazing! Here is the handy recipe card.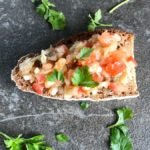 Print Recipe
Turkish Grilled Eggplant Spread
Ingredients
1

Medium Eggplant

1

Medium onion

1

Medium tomato

2

tbsp

Olive oil

1/4

tsp

Salt, or to taste

Black pepper to taste
Instructions
Spread a bit of oil on the eggplant and put it on the grill, rotating periodically.

Meanwhile, chop tomato and onion and combine in a bowl.

Once eggplant is charred from the outside and soft on the inside (about 35 minutes depending on the heat of your grill), remove from grill and take out the innards (discard the charred skin).

Add the eggplant to the chopped tomato and onion and "cut" if some pieces are to long.

Add olive oil, salt and pepper to the spread and mix well. Serve.
Looking for other dips/spread recipes: Check out my CILANTRO SPREAD WITH WALNUTS AND CHILI. It is spicy, full of flavor, and absolutely delicious on a slice of bread.