How to Cook Stovetop Rice Perfectly (VIDEO)
Learn how to cook stovetop rice perfectly. Every. Single. Time. It was always a mystery to me when I heard people had trouble cooking rice. I still can't quite understand it. So here is the most basic and easiest recipe for cooking rice with all my secret (or not so secret) tips and tricks.
I learned how to cook rice from my mom. It was so long ago I don't even remember when it was. The recipe is very easy and the secret lies in the ratio of rice to water. Of course! The basic recipe is for every one cup of rice, you need the same exact cup of water. That's it. You add more water, rice might become mushy. You add less, it might be partially hard. So far, I haven't met a rice that this didn't work for. As you can see from the pictures, the end result is a fluffy-type of rice. If you want more of a sticky consistency, you will need more water.
How to Cook Rice VIDEO
Please note that some of the links on this page are affiliate links. View my Privacy Policy for details.
If you like to read, instead of watching, read on for the detailed instructions on cooking rice perfectly.
How to Cook Stovetop Rice Step-by-Step
To start off, measure out one cup of rice, using a measuring cup. We love eating Basmati Rice in this house, but this recipe works for any kind of white rice (I did not test this with a brown rice and this will not work with wild rice).
Wash the rice using a sieve and a small bowl. The water doesn't have to be perfectly clear. In fact, I think I never got it to do that. As soon as it seems to be clear, you just need to move the grains a bit, and the water is clouded again. Let the rice drip off excess water and transfer it to a small saucepan.
Now using the same exact measuring cup, add one cup of water to the rice.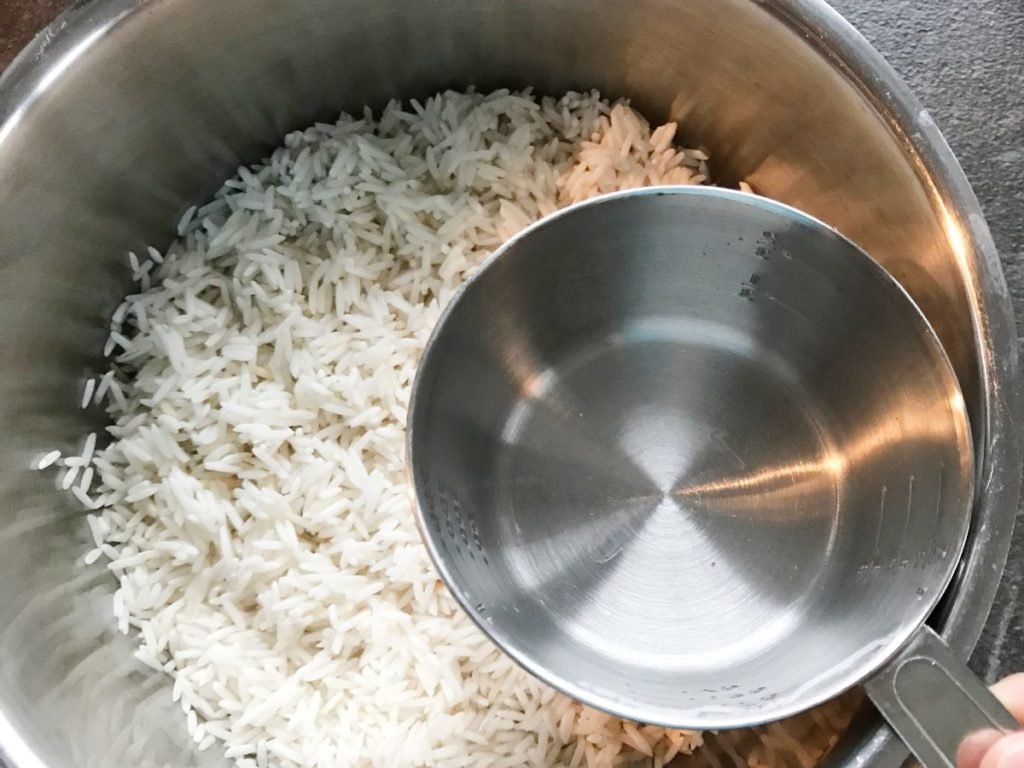 Add half a teaspoon salt and one tablespoon oil (I like using Olive oil). Bring everything to a boil, mixing constantly. As soon as the contents of the pot start to boil (don't let it come to a rolling boil), reduce the heat to lowest setting and cover the pot. Immediately set the timer to 15 minutes.
As soon as the 15 minutes are up. Take off the rice from the stove. It can rest for several minutes, but should not stand on the hot stove, otherwise the rice on the bottom will become hard.
Fluff the rice with a fork, and it's ready to be served!
Tip: Since all stoves are different, you might need to test the level you cook at. At home we always cooked with the heat on level 2. But the first time I cooked here in Germany, the rice at the bottom was hard and partially burned. So I had to reduce the heat to level 1 (lowest setting on my stove). So you might need to adjust the heat accordingly.
The beauty of this method is that you don't even need a measuring cup to get this right. Just use a cup/glass that you have and make sure to use the same amount of water as you do rice.
So now you know how to cook rice perfectly:) Enjoy!
Awesome Recipes to use this Rice in
Lastly, if you cook stovetop rice using this method, make sure to leave a comment and/or give this recipe a rating here! I'd love to hear back from you and will do my best to answer and respond to every comment. And of course, don't forget to tag me on Instagram if you make this recipe. I'd love to see the photos of the recipes you have made!
Print Recipe
How to cook rice
Learn how to cook rice on a stove top perfectly every time.
Ingredients
1

cup

rice, e.g. Basmati

1

cup

water

1

tbsp

olive oil

1/2

tsp

salt
Instructions
Rinse rice until water runs mostly clear.

Add rice to a small saucepan.

Add water, olive oil and salt to the rice and bring to boil.

As soon as water starts to boil, cover, reduce heat to lowest setting (level 1 for me) and cook for 15 minutes.

Remove from stove and fluff with a fork. You can let it rest for a bit, but it is not required.
Notes
Since all stoves are different, you might need to test which level to cook at the first time you cook.
You don't have to have a measuring cup. Use any cup/glass you have, just make sure to have the same amount of water as you do of rice.
If interested, learn how to cook barley, as well. Another great grain to serve as a side dish or use in other dishes.
Looking for ideas on what to serve with rice? Check out this Article from All Women's Talk: 7 Yummy Foods to Serve with Rice.