Delicious Rice and Corn Casserole
Made from ingredients that you most likely already have on hand, this rice and corn casserole is one of the easiest things to make if you're pressed for time, or ideas. I've made this for guests, work lunches, mothers with newborn babies…. You just can't go wrong with this one. I hope you like it as much as we do.
Some of the links on this page might be affiliate links. View my Privacy Policy for details.
Rice and Corn Casserole Recipe
To start off, cook the rice. The rest of the ingredients can be prepped while rice is cooking. See my post, How to cook stove top rice perfectly, for detailed instructions with pictures for cooking rice.
We like using Basmati rice, but any white rice should work here (Livestrong has a good article on white rice types). Once the rice is cooked, let it rest for a bit and transfer to a 7 x 11in. casserole dish, spreading evenly on the bottom.
While rice is cooking, using a large skillet, sauté the meat until it is no longer red. I mostly use ground beef in my kitchen as I think it is healthier than pork, but you can try using pork or even chicken if you like. (Side note, I have skillets from Simply Ming which don't seem to be available anymore. The above link shows skillets similar to mine).
While the meat is cooking, peel and finely dice the onion. Also, peel the carrot and grate it using a boxed grater (I love mine from Kitchen Aid). You can also grate the cheese at this time, or you can do it right before baking (or just use already shredded cheese for convenience:)).
Once the meat is no longer red, add the diced onion to it. Sauté an additional 2-3 minutes until the onions are translucent and then add the carrots. Once carrots are soft, add the corn and let it warm through.
Add the heavy whipping cream, egg, herbs, salt and pepper and mix everything together. Again, warm everything through and check the salt level, adding more salt if needed.
Spread the meat mixture on the top of the rice layer in the casserole dish.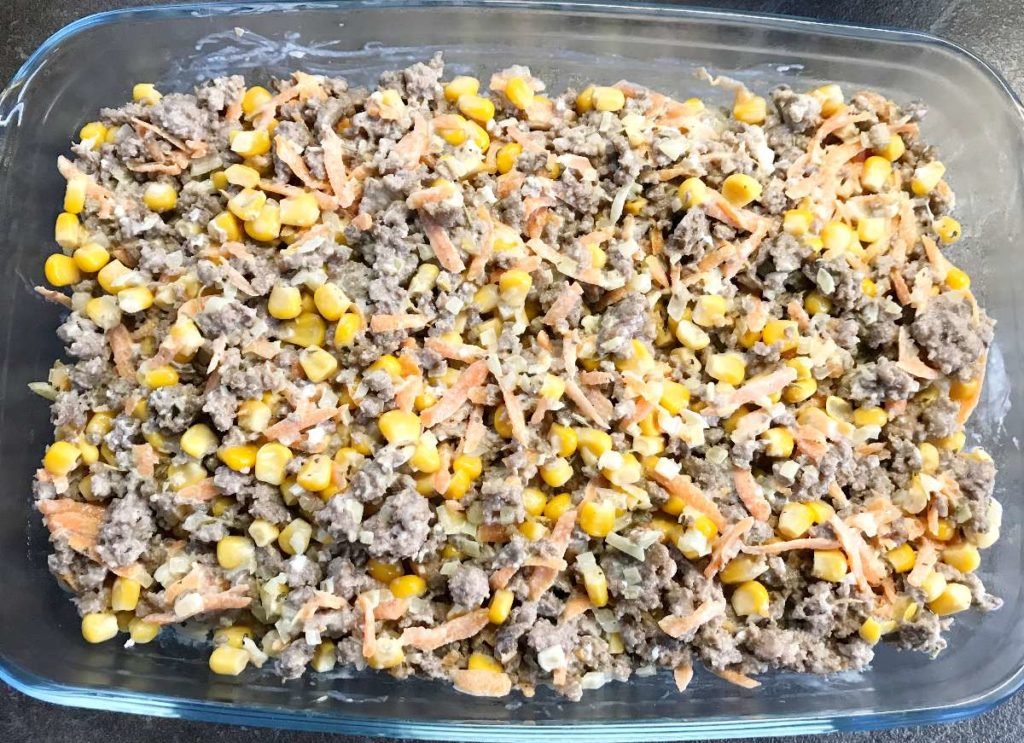 Grate the cheese (if not yet done) and spread evenly on the top of the meat mixture.
A word about cheese. In Germany, Gouda cheese is generally used for casseroles like this. The German Mozzarella is generally the fresh, mild Mozzarella sold in little packets (not the tightly packed, no liquid, harder Mozarella that we're used to). It's harder to find the more firmer Mozzarella. I'm not sure I've ever seen it here. I think Gouda probably turns out to be cheaper and more convenient to use, as well. However, use whichever one of the cheeses you have on hand. You can also mix them together, if you like.
Bake the rice and corn casserole at 340° F for 20 minutes or until the cheese starts to turn golden. Serve hot. (Sprinkle with chopped parsley for decoration🙂 – optional). The casserole comes out cheesy, hearty and full of flavor. It's the perfect combination of rice and meat. I hope you like this easy recipe.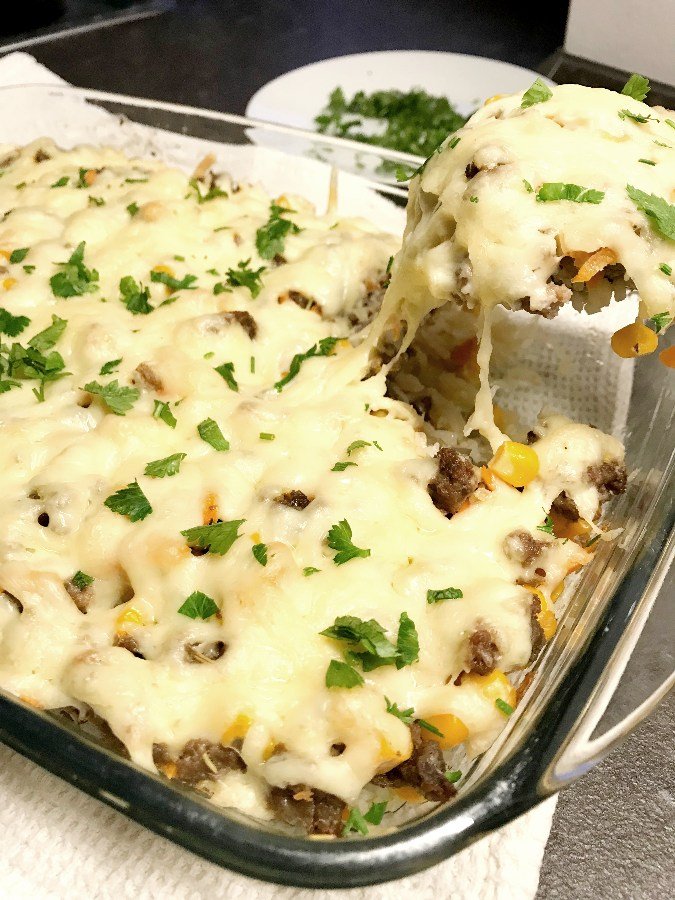 Lastly, if you make this Rice and Corn Casserole, make sure to leave a comment and/or give this recipe a rating here! I'd love to hear back from you and will do my best to answer and respond to every comment. And of course, don't forget to tag me on Instagram if you make this recipe. I'd love to see the photos of the recipes you have made!
Print Recipe
Rice and Corn Casserole
Tasty casserole using staple ingredients such as ground meat, carrots, onion, corn, egg and cream. Very fast to prepare and tastes great.
Ingredients
2/3

cup (140g)

Uncooked rice

10.5

oz (300g)

Minced meat

1

Onion

1

Carrot

1

(5 oz)

Small can of corn, or to taste

1

cup (240ml)

Heavy Whipping cream

7 oz (200g)

Mozarella or Gouda Cheese

1

tbsp

Corn oil

1/2

tsp

Italian herbs

1/2

tsp

Salt

Pepper to taste
Instructions
Cook rice and transfer into a medium casserole dish. (Check my post, How to cook rice, for detailed instructions).

In the meantime, sauté meat in oil until no longer red.

While the meat is cooking, dice onion into small pieces and grate the carrot.

Add onion to the meat and sauté until translucent. Add carrot and sauté 2-3 minutes more, or until soft. Add corn and mix everything well together until the corn is warmed through.

Add the whipping cream, egg, herbs, salt and pepper and mix everything together.

Add the meat mixture to the casserole dish, layering everything evenly over the rice. Sprinkle with the grated cheese.

Bake at 340°F (170°C) for 20 minutes. Serve hot.
Notes
Note: the small corn cans here in Germany are about 5 oz. If you add more corn (because your can is bigger) it shouldn't be a problem. As long as you are not doubling the amount.
Other easy dinner ideas: